Used Truck: Albert's Freightliner B-Double
---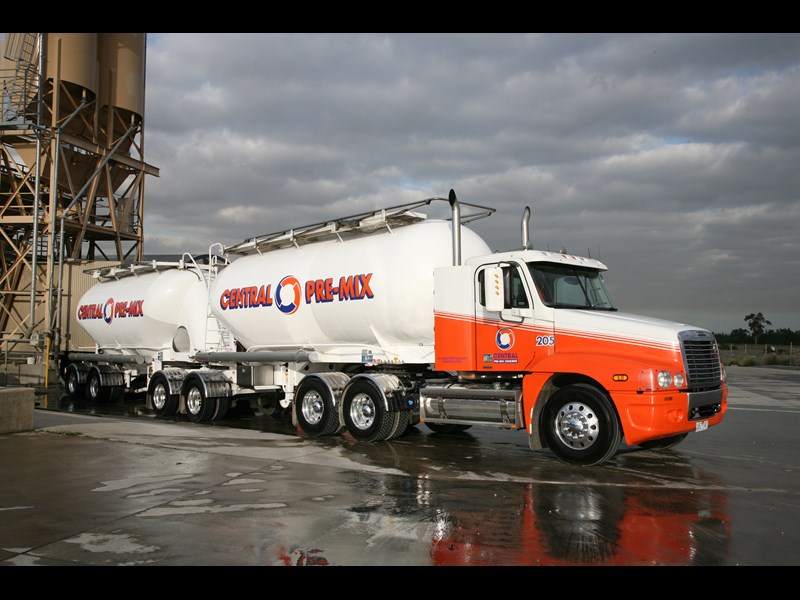 Like many drivers, Albert Sella has made the move from running interstate to local and for Albert, there is no looking back.
Albert drives a Freightliner for Central Premix, and is kept busy five and a half days delivering bulk cement in the company's 19mt  B-double. Central Premix has two plants, one in Camberfield and the other in Deer Park,  Owner Driver caught up with Albert, unloading at Deer Park.
Albert previously drove car carriers and tautliners on interstate, giving up the interstate work five years ago. Albert has been with Central for three years.
"The work is good and the environment is good. The people are good to work for and that is why I am still here. I am only five minutes from home, that's the advantage. There is nothing wrong with running the Hume, but then you get into the Melbourne traffic anyway, where as here you can knock off, you can go home, its all finished," says Albert.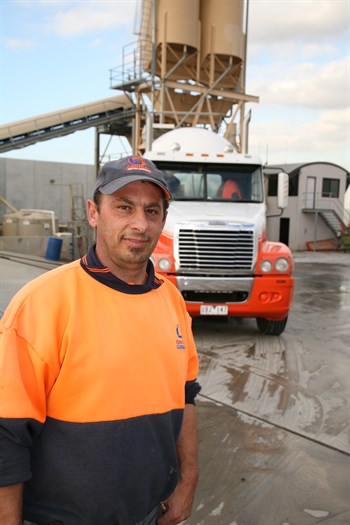 Albert started on a single bulk tanker and after four months, management approached Albert about driving on of Centrals, five B-doubles tippers.
"I did that for three or four months, and then this came up. The company said, 'we want you' and they asked me, and I said yeah, I'll go for it, what have I got to lose? It's not everyday that you are approached by management and offered a brand new combination, a brand new combination like that, it's lovely," states Albert.
Keeping The Freightliner Clean
The combination is now two years old, and is a credit to Albert. Cement dust has a way of dulling chrome and aluminium, but the B-double combination sparkles.
It is obvious to see that Albert likes to have the gear looking nice. The previous couple of days in Melbourne had been rotten with showers and rain and yet the combination is still like a million dollars.
"I just keep on top of it, having one driver  too makes a difference, while unloading you get time to clean, you get to know the whole combination inside out. I am a non-smoker, and they know if a smoker goes in then things will change. I am very fussy about the equipment. It's a plus for the company and great for me, I have great looking gear and their equipment is looked after, it's a win - win," smiles Albert.
If any work needs to be done on the gear the boss has no worries in letting Albert get it done, as the B-double plays a pivotal role in the whole operation and if it is down, contractors need to be brought in to cart the cement. It is before to spend a few extra dollars keeping this in top condition." States Albert.
First Time Freightliner
Albert had driven Kenworths and coming to Central, this is his first experience with freightliners. The freightliner has a 15 litre Cat under the bonnet driving through an 18 speed Eaton gearbox and with the whole combination riding on air bags.
"It's a nice little combination; it handles very well and is nice and comfortable for a European truck! I do like the freightliner," says Albert. "it drives really well."
Albert has had to adjust his driving to the conditions he encounters running around the city. The cement is loaded in Port Melbourne, with Melbourne's road network making the job relatively straight forward.
"You just have to adjust to the driving conditions. It is totally different to running the highway. I've had to change my driving style a lot. There are days when you pull your hair out. The ring road makes it easy but all you need is one accident and the day is stuffed for you.  If you can't beat them, you join them," smiles Albert.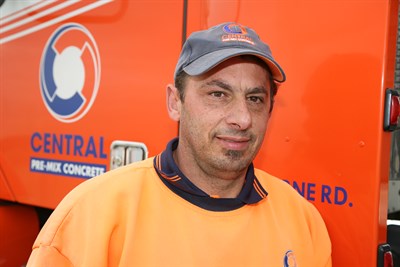 While most would grizzle about the wet weather, the truck gets dirty but it allows Albert to catch up. There are days when he cannot keep up and then he prays for a day of rain.
It's a nice, clean, job with no pressure, it's a great environment, unloading is simply a case of sitting back, and watching it, with plenty of time to clean when it is required.
Unloading And Unwinding
"Unloading is a straightforward operation. You have to keep your eyes on it, but once you get to know it, you can walk away, you know how long each section takes to empty, it's very basic. It can be relaxing, it gives you time to wind down. Here, instead of worrying about forklifts and pallets, you are your own boss. There's time for a coffee and I can still watch the tanker, that's the good side of the job," smiles Albert.
Central Premix has only been in existence for five years. The management chose a very eye-catching colour scheme for their fleet which is neat and clean.
"They stand out and that is the idea," states Albert.
"I love the job – really enjoy it, the boss is good, they look after you and treat you well. They are very kind to people and good people to work for, what more could you want!"
Find Freightliner trucks for sale.
Subscribe to our newsletter
Sign up to receive the Trade Trucks e-newsletter, digital magazine and other offers we choose to share with you straight to your inbox
You can also follow our updates by liking us on Facebook. 

Trucks For Hire | Forklifts For Hire | Cranes For Hire | Generators For Hire | Transportable Buildings For Hire