Used Truck: Dave and Bec's Mack Collection
---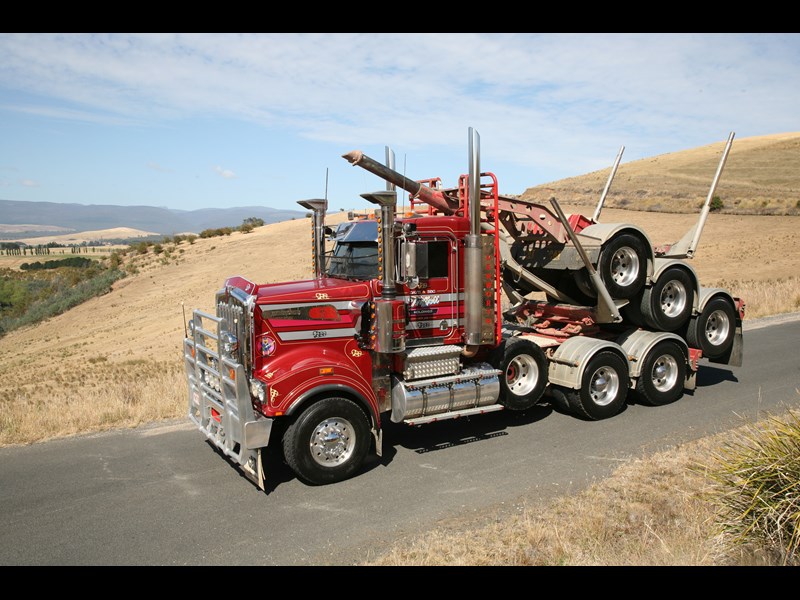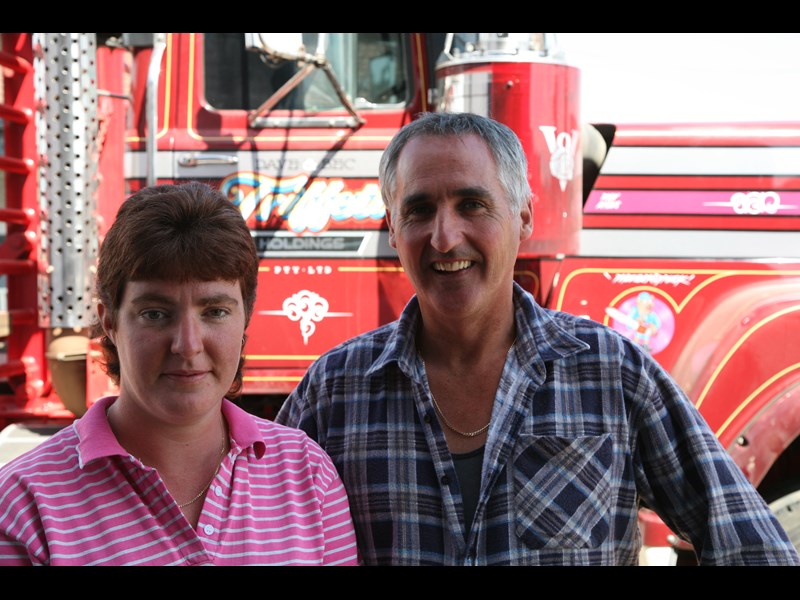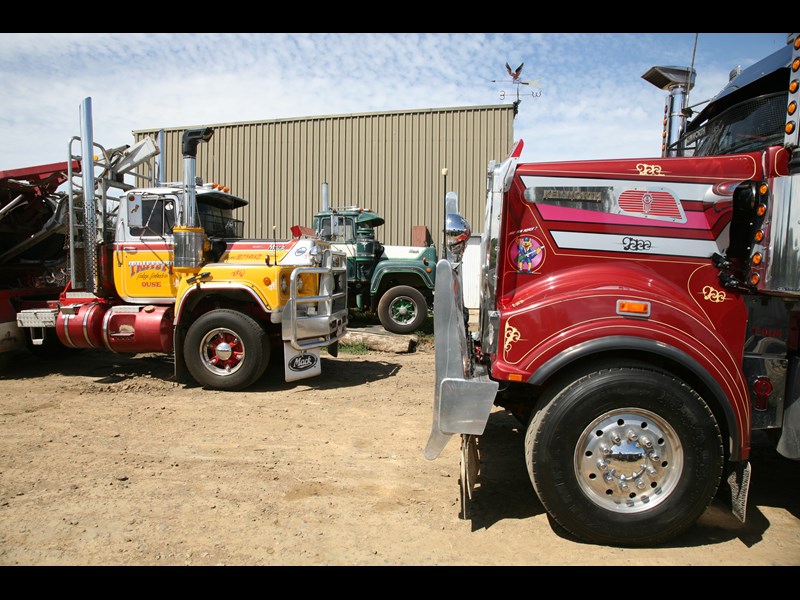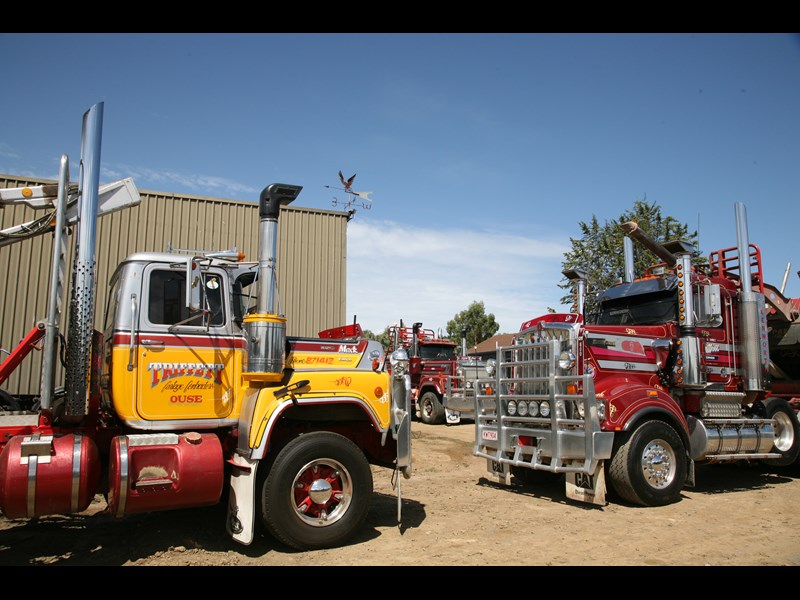 Dave and Bec Triffettt are Mack people. On any weekend, you will find the backyard full of Macks; There is an old R-model, a 350 Valueliner, a V8 Superliner, V8 Valueliner and an oddball; a T904 Kenworth.
"You can't beat a bulldog!  My old father used Macks all of his life and I was brought up sitting in them, riding with Dad.  As for Kenworths, I hate Kenworths but I must give credit where credit is due. The 904  is now four years old and has done 560,000 km and the most we have spent on it would be about $4000.  We have just ordered a new one, a T908, and it will be exactly the same as the one over there" says Dave.
Dave lives at Ouse, in central Tasmania and has four trucks hauling timber throughout the island state.   Like many families in Tasmania the Triffetts have had a long association with timber. Dave's father, Leon, started back in 1951 and at about 13 years of age, started driving a Ford  tray truck. Back then logging was all by hand, the logs were hand rolled on to the trucks and if someone had forgotten to put a block on the other side, the logs would roll straight off the other side!
"There were many trials and tribulations in the old days but they did it and succeeded" says Dave "Dad has a wealth of knowledge and still today, if I am going to buy something or want to do something, I always run it past Dad."
Back in 1999, the Triffetts lost their contract to cut and haul timber into Triabunna.  The equipment was sitting on their farm when Dave was approached by Forestry Tasmania to undertake 11 months work on the some old sh*t blocks.  Dave took his reliable Father out for a look.
"It was all old big swampies, big single rider swampies. Dad leaned back and looked up at the trees and said, they call this rubbish, get my gear and get to work! So Dad lent me in the gear for the length of the contract; after which I fell into a full-time five-year contract with Forestry" recalls Dave "once I had the contract, I bought Dad's equipment and we have gone on from there."
Trucks pay a vital role in the Triffett operation with two gangs in the Tasmanian forests harvesting timber and other operation in Coffs Harbour, New South Wales.
"I have some top blokes out in the bush, they are bl**dy spot on. If there is a problem they'll come to me and I'll fix it for them, I don't have to stand right next to them. I have a good relationship with dad, we have our rows but after that we go back to work, that is the way he taught me! I was bought up straight, if something needs to be Said, I'll say it. A lot of people don't like that, if you are not going to speak your mind, why be the boss?"
Dave Triffett doesn't want to hear from the drivers! They know where I buy tyres, Lights, and tools. He has told all of his drivers that if they tip-over, ring for a tow truck and he will come out and have a look. If he thinks of the accident has happened because of stupidity or speed, he will tell them to take off running!  If it is an honest accident and they do happen, it doesn't worry him.
Dave first started driving at 19 and became an owner operator in 1992. At the age of 27, Leon Triffett sold his son a yellow Valueliner. In 1995, he bought a fully imported Max Marmon.
"It was converted to right-hand drive in America.  It was a good lorry and did 2 ½ million kilometres.  Now it is in the shed, I want to rebuild it but it will take a while" continues Dave.
In 2001, Dave added the trusty V8 Valueliner to the operation to haul the extra loads that he was harvesting and giving to subbies to cart.
Next came the new 904.   An old guy by the name of Dick Williams was due for a new truck and wanted a Kenworth.  At this stage, Dave had met Bec who was a lawyer/accountant all in one. They purchased all new equipment and have not looked back since.
Two years ago, Dave went to Brisbane and bought an old Superliner  for Valentine's Day!  He paid $60,000 for it, he bought it home and spent another $22,000 on it. It is Bec's truck and it is her pride and joy. The yellow Valueliner is the Dave's pride and joy. And they say romance is dead!
"Bec has per road  train ticket,  her old dad taught her to drive.  She did three years linehaul on the mainland before coming down here.  We do saw logs down to Hobart together. Bec drives the yellow truck, we would load her and send her off and I would load the superliner and catch her down the road" smiles Dave proudly " Bec loves the trucks, she is a lovely lady and makes my life so easy. It is a bit of an eye opener for a lot of guys to see a woman in their world.  It will happen more and more.  A woman is more safety conscious, they are more careful and she can change gears as good as the best!"
Bec loves AC/ DC songs, hence the name Thunderstruck on the Superliner, High-Voltage on the Kenworth (because of all the lights) and on the V8 Valueliner Highwayto Hell (because it blows up every six to 12 months).  When it comes back on the road after the latest rebuild, it will be Dave's truck and will pull a skel trailer or their own float. Dave is not concerned if it does a load a day or only a load a week.
Personal Touch
It is a family run operation with Dave preferring to remain small and keeping the personal touch.  Dave's son Daniel who is 10, loves machinery and goes into the bush with his father. 
"He gets into the excavator, I give him the hand signals, he knows where to grab a log and put it. My daughter, Kimberley, helps Bec with the books and she is learning the nuts and bolts of everything" smiles Dave proudly.
 Dave used to go bush with his father right from when he was in primary school; he learnt to drive between the ages of eight and 10.  Leon let his sons drive the truck in and out of old bush roads. The elder of the two brothers, Stan, was killed about 15 years ago. A log came off the top of the truck. Stan was a legend.  Everyone used to call the Triffett boys the Eckyl Brothers, because they used to torment everyone at every opportunity. They were just a pair of larrikins.  
Bec and Dave are very happy working for Forestry. It is one of the best companies that Dave has ever worked for.  It's the Tasmanian government and Dave finds them absolutely spot on.  Both Dave and Bec are happy to go out of the way to help them.
Dave together with a mate, Kenny Hall, do all of the maintenance. If there are motor, diff or gearbox problems, Dave will pull them out and Kenny will come around, fix it and then put them back in.
Dave's older brother Stan taught him to weld. Today there isn't much that Dave needs that he can't build or make.
"You have to be able to these days because you can't afford to spend $80 in a workshop while you're just standing around" reflects Dave "that's another reason why I love old Macks. If you get vibrations, I know what and where it is.  If I get a vibration in the Kenworth out there, I'm in the dark! But in the end, the 904 has been a good lorry, Mack was king of the road but now it has changed."
The engine in the 904 is a C16 600 hp Cat and according to Dave is a bit of a fuel guzzler; returning the same fuel economy as his V8s. While the new 908 will have a 620 Cummins.
"We are not here for fuel economy, just to get the logs over the weighbridge with no-one tipping arse over head! Today you need modern comfortable equipment. You can't give a good driver an old Mack. Because everyone is trying to keep up with the big stuff, to keep up with them you need to know how to drive them.
A lot of young blokes get their tickets, they think they can jump into any gear as long as they get a shiny bull bar out front. They are causing their own accidents and they are making a bad name to the rest of the good drivers.
"There are a lot of bl**dy good drivers in Tasmania!"
There aren't any B-doubles behind the Triffett trucks either. Besides being a bit old fashioned, Dave believes that over the course of a year, with his own run, a single jinker will carry as much as a B-Double.
"Winter time down here is pretty tricky especially coming over the Great Lake Road. There is all the extra moving parts as well – too many moving parts. I believe in one driver, one truck and don't run two shifts. Dad told me that if you can't make enough in the day time, you certainly won't make them when it's dark" smiles Dave "I have too many trucks really, but what can I say? I am a Mack lover. I have one old Mack sitting in the yard as a back up, so if one breaks down, I've got one to put on the road straight away."
While talking with us, Dave and I have been sitting around a very individual table, a Mack engine block with a sheet of glass on top, this is real Mack territory!
| | | | |
| --- | --- | --- | --- |
| | See all the content we have on Mack trucks, including news, reviews, specs, and trucks for sale. | | Go here for a list of all our Mack used truck stories |
Subscribe to our newsletter
Sign up to receive the Trade Trucks e-newsletter, digital magazine and other offers we choose to share with you straight to your inbox
You can also follow our updates by liking us on Facebook. 

Trucks For Hire | Forklifts For Hire | Cranes For Hire | Generators For Hire | Transportable Buildings For Hire