Mercedes-Benz Actros SLT truck video review
---
Matt Wood tests out the Mercedes-Benz Actros SLT, a purpose-built heavy haulage truck with a massive amount of torque.
The Actros badge is often more widely associated with grocery deliveries these days. However, Mercedes-Benz has had a heavy haulage powerhouse waiting in the wings for some time now.
Engine
The SLT is available in 6x4, 6x6, 8x4 and 8x8 guises, the 15.9-litre, Euro 5 V8 engine breeds 653 meaty ponies (480kW), while developing a healthy 3,000Nm (2,212ft-lb) of torque.
Transmission
Mercedes-Benz and Voith have come up with a fascinating way of getting maximum power to the ground at peak torque from a standstill.
It's called a VIAB turbo clutch, VIAB actually stands for Verschleißfreies Integriertes Anfahr und Bremselement, which if you'll forgive my German language skills — ordinary to say the least — roughly means "wear-free starting and braking element".
Another way to look at it is as a hydrodynamic coupling, although that kind of sounds like something consenting adult robots do behind closed doors.
Essentially, the turbo clutch acts as a hydraulic coupling between the engine and the transmission. It fills with oil when full power is required, generally on take-off or at low speed when loaded, and disengages when enough momentum is achieved for the transmission to change up out of first gear.
From then on the dry friction plate clutch takes over and the turbo clutch drains of oil and essentially locks out.
Now this isn't an everyday highway hauler bit of gear, the VIAB turbo clutch is a feature of Benz's 250 tonne GVM 653hp (480.3kW) eight-wheel drive Actros SLT brute.

Behind the bent eight donk resides a 16-speed PowerShift AMT. Between the two lies the aforementioned VIAB turbo clutch which translates the power and torque of the OM502LA engine into usable pulling power from a standstill.
I think of it as being like cracking the wheel nuts on a truck rim. You can strain, and pull on a wheel brace to try and move the nuts, or you can grab a long breaker bar and use increased leverage to do the job without busting a phooffer valve. The turbo clutch acts like the breaker bar, or for the petrol heads out there, like a stall converter in a drag car.
Heavy haulage is a much specialised niche in the transport industry. Traditionally the trucks used for these tasks have had auxiliary transmissions fitted to enable low-speed creeping when under significant strain. Moving loads that are measured in the hundreds of tonnes rather than tens, means there are often multiple vehicles involved, some pulling the load, some pushing the load.
Cab and Controls
The SLT sits high on hub reduction axles and an extra step is required to make the journey up to the cockpit.
Once inside, the SLT is overwhelming in its simplicity, there's not much here that gives away its specialised nature, it looks pretty much like any other Actros out there.
The one major clue is the larger diameter steering wheel. I've also criticised the small wheel in the highway spec Actros in the past.
On closer inspection however, there are other tell-tale signs of its heavy-duty nature.
A '<70' button is used for empty or light operations under 70,000kg, by pressing this button the VIAB clutch will not be used. The default position however, is always for the turbo clutch to be used. There's also a button for low speed manoeuvring and also a rocking function for easing out of bogs.
In an effort to address fuel economy, an eco-roll function is available for light laden running.
The big Actros seems to be all flashing beacons and over-dimensional war paint from the outside, but with the big 16-litre donk rumbling away under the well-insulated cab it's all very civilised inside.
Putting the SLT into gear is the same as with any PowerShift equipped Benz. But once in gear, a green light on the dash illuminates and faint whine emanates from underneath the cab, indicating the turbo clutch has filled with oil and engaged, even using slight throttle pressure you can feel the driveline feeding power and peak torque to all corners of the Benz.
Once the SLT is rolling, the turbo clutch drains of oil and locks out as the PowerShift tranny changes into second gear. Now the transmission is mechanically connected to the engine and will use the traditional dry friction plate clutch for gear changing duties.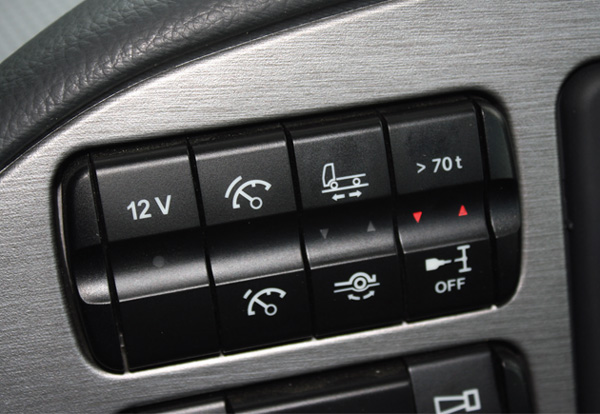 Performance
Heading out of Brisbane up Cunninghams Gap often requires an all-star cast of serious heavy-duty muscle. Sometimes vehicles such as the Kenworth C500 are used, fitted with QSK 19-litre Cummins engines and operating on conditional registration due to their off-road wheel track and Tier 2 emissions level engines.
But quite often these vehicles are geared for low speed but high torque, and have limited usage outside of lending a hand for big pulls.
In hot weather, sometimes the drive wheels of a heavy haulage prime mover will actually start pulling up the road surface as it scrabbles for purchase on the blacktop. Another rather scary sight is to see the rims on the drive axles actually start to slip inside the tires!
I recently found myself catching up with an 8WD version of the SLT and spent a bit of time behind the wheel of this rather civilised heavy hauler. I've been critical in the past of some of the Actros' attributes as a heavy-duty line-haul prime mover.
With a sparkling new Euro 6 cab now available in Europe, the current Actros cab architecture is looking a bit past its use by date. Compared with competing heavy-duty Euros, driver accommodation is cramped, and while the 16-litre V8 is a good performer as a package, it seems a bit lacking for the long-haul.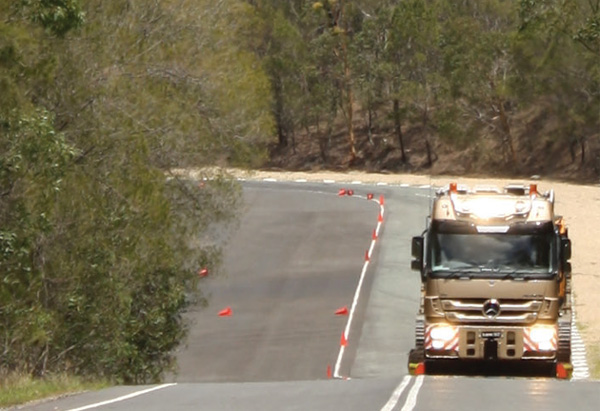 But, the SLT highlights the strengths of Benz's engineering capabilities and potential reach. This is an out of the box heavy haulage tractor that requires virtually no customisation.
Where other brands may require drive axle and transmission alterations, the turbo clutch equipped Benz is a walk up start for big loads.
The SLT was counterweighted and attached to the ringfeeder hitch was a dolly and rows-of-eight spread deck float. Chained to the float was a 35 tonne excavator; the whole combination tipped the scales in excess of 80,000kg.
Eight-wheel drive with a load sharing twin steer, certainly gives the big Benz some traction benefits and power delivery is spread out across the vehicle giving it a long footprint.
Behind the cab a towering mass of radiators and tanks is a dead giveaway this baby means business. Air tanks, the 900-litre fuel tank, and hydraulic tanks all find a place up on the chassis and out of harms' way, a bonus for off-road operations.
But it's the low speed grade ability of the VIAB system that really impresses. I was able to let the whole combination slow to a standstill on a grade at the Mount Cotton, Queensland circuit, and let it hang there using only the throttle.
By lifting my right foot slightly I could let the entire 80,000kg drag me back down the hill slowly before gently catching it using only the throttle pedal. It was astonishing how easy it was. Try that in other vehicles and there'd be burning clutch plates and/or exploding driveline components.
The reported benefits of the VIAB system are that it is essentially wear free. I could have sat on that grade all day with the turbo clutch engaged, hanging by the throttle without anything getting hot or wearing out, it doesn't place any wear on the driveline whatsoever.
Once the big Bennie was mobile, I tested out the retardation capabilities of the VIAB system.
Even at 80,000kg on the undulating test track I was able to navigate the circuit without using the brake pedal once. The turbo clutch provides 3,500Nm of retardation, which is activated via the retardation wand on the steering column.
Again, the turbo clutch fills with oil and hydraulically hauls on the drivetrain, slowing it down impressively. The application of power and torque through the drivetrain can be controlled with surgical precision.
When running at gross weights of under 70 tonnes the SLT doesn't need to utilise the VIAB clutch, and at the flick of a button behaves like any PowerShift-equipped V8 Actros. Torque converter transmissions have proven their worth in heavy applications in the past, however they rely on the engine reaching peak torque range for maximum effect rather than generating maximum torque from a standing start like the VIAB unit. The turbo clutch also has its own significant cooling package.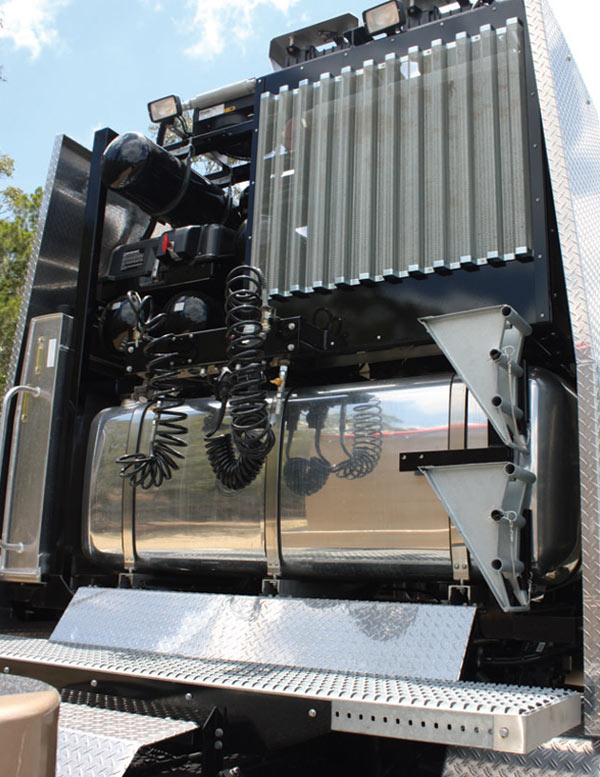 Verdict
All of these are major benefits when dragging over dimensional loads though tight areas especially in conjunction with the traction benefits of 8WD. Aside from heavy haulage applications, Benz also reckons the SLT has potential for multi-trailer mining applications.
Already Benz has one unit operating with McAleese at a gross weight of 246,000kg and towing four trailers in Western Australia. This will no doubt be tough. McAleese Group Asset Manager, Alan Yates has already reported gains in both fuel economy and productivity.
After a few hours with the heavy hauler I walked away feeling mighty impressed. It's the most well rounded Actros variant I've driven.
I even found myself thinking the old school gearstick for heavy haulage seems absurd compared to the VIAB Actros. The SLT Actros proved it could talk the torque, buyers will dictate if it can walk the walk down under.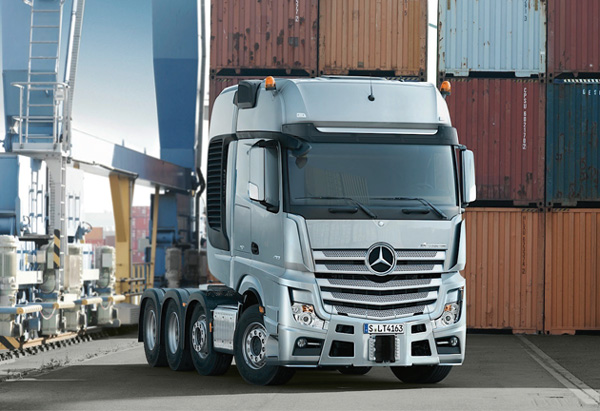 Specifications
Make/Model: Mercedes-Benz Actros SLT 8x8
Engine: 15.9-litre V8 turbo diesel with selective catalytic reduction (SCR)
Power/Torque: 653hp (480.3kW) / 2212ft-lb (3,000Nm) @ 1,080rpm
Transmission: 16-speed PowerShift AMT
Clutch: VIAB turbo clutch in conjunction with dry friction plate
Drive: All-wheel drive-hub reduction axles
Fuel capacity: 900 litres
GCM: 250,000kg
Subscribe to our newsletter
Sign up to receive the Trade Trucks e-newsletter, digital magazine and other offers we choose to share with you straight to your inbox
You can also follow our updates by liking us on Facebook. 

Trucks For Hire | Forklifts For Hire | Cranes For Hire | Generators For Hire | Transportable Buildings For Hire