Cat CT630S truck video Review
---
Cat's B-double contender is finally here … officially. Time to get behind the wheel of the new prime mover and see what refinements the real deal has to offer

The newly launched Cat CT630S from Navistar Auspac (formerly NC2) has a kind of simplicity and honesty in its execution that I find quite appealing.
The S is the long awaited 26m B-double offering from Australia's youngest heavy-duty truck brand.
The Cat family boasts a slippery shape and as a consequence, controversial looks that tend to polarize opinions everywhere they go. It is also quite light with the extended cab taring off at 8,170kg dry.
The current baby 13-litre CT610 and the 15-litre CT630 are all based on the Navistar ProStar and they are all an engaging and rewarding drive as long as you're prepared to accept the old school American engineering mindset.
The B-double S has been in the pipeline for quite some time and in a heavy-duty market dominated by east coast B-double vehicles it's been an obvious hole in the Cat line-up.
Much of the design and engineering work during the development of the S was done here in Australia with the backup of the Navistar design team back in the United States.
The result is actually a uniquely Australian truck with Navistar ProStar underpinnings but with a short bumper to back of cab (BBC) that lends itself quite nicely to B-double duties.
Engine
As you'd expect the engine is a 15-litre C15 power plant that cranks out 550 healthy Caterpillar ponies and a torque figure of 1,850ft-lb (2,508Nm).
The engine is a Euro 5-compliant that doesn't need exhaust gas regeneration (EGR) or selective catalytic reduction (SCR) to reduce its smog output.
In other words, it doesn't have an exhaust afterburner or need AdBlue. It's a no-nonsense approach to tackling some of the myriad challenges that Australian transport operators face in this day and age.
Transmission
Clinging to the rear of the 15-litre is an Eaton 18-speed available in either manual or UltraShift Plus automatic manual transmission guise.
Suspension
The rear axles are suspended exclusively by Hendrickson Primaax and final drive ratios from 3.9 to 4.1 and 4.33 are also available.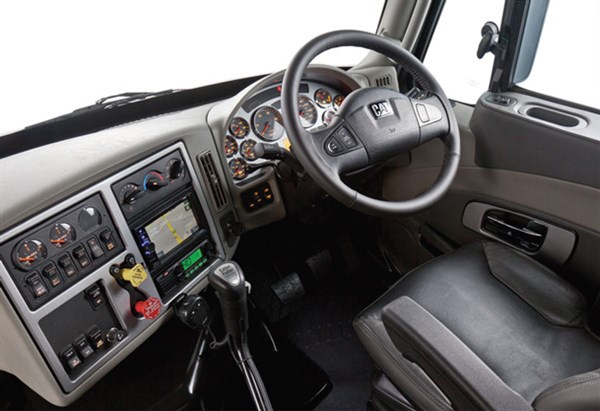 Cab and controls
At present, the CT630S is available in day cab and extended cab form. The extended cab is an obvious contender for line-haul shuttle duties and regional work but I've now spent more nights than I'd care to admit sleeping in that narrow 26-inch (66cm) bunk with no head room.
Luckily a high rise walk-in sleeper version of the S, called the SC, is due to land in the country very soon and finally Cat will have a true line-haul contender for the Aussie market.
As with the rest of the range the curvy cab provides excellent visibility, and in the S it's almost possible to forget that there's a bonnet out front at all.
Being a bonneted truck climbing aboard the S is an easy task involving a couple of easy steps.
A gearstick that goes straight into the top of the tranny makes for a very sweet shifting box, especially considering the lazy revving nature of the yellow motor out front.
This also makes for a very easy drive that doesn't have you watching the tacho. Anything over 1,550rpm is really just burning fuel and the 3.9 rear end of this truck meant that is was ticking over at about 1,490rpm at the legal limit.
Any rise in the road just meant a quick drop out of overdrive to get the jump on a grade.
Sure the interior styling is an acquired taste but it does have to be said that most things are easily reached. The only niggle in the switch department is the headlight switch, which is obscured by the steering wheel, but a regular driver would settle in just fine.
A constant niggle with these trucks for me is the lack of storage near the driver, something I hope will be addressed in the new SC model.
In all the models in the Cat range, bar the LS, you always seem to end up with something rolling around on the cab floor.
Another whinge would be the single power outlet. In this day and age most drivers would need at least two for charging phones, tablets, laptops etc. There is some under bunk storage under the cot but no exterior locker doors.
Unfortunately the bed floor and locker lid feel a bit cheap and flimsy with quite a few sharp edges and I've been bitten by them on more than one occasion.
This sets off a chain reaction of me jamming my finger on the catch of the storage locker lid, then swearing, then whacking my head on the low roof of the truck, then swearing, then tripping over the gear stick, then swearing …I'm sure you get the idea.
Fortunately, this is another area that is reportedly being addressed with the SC model.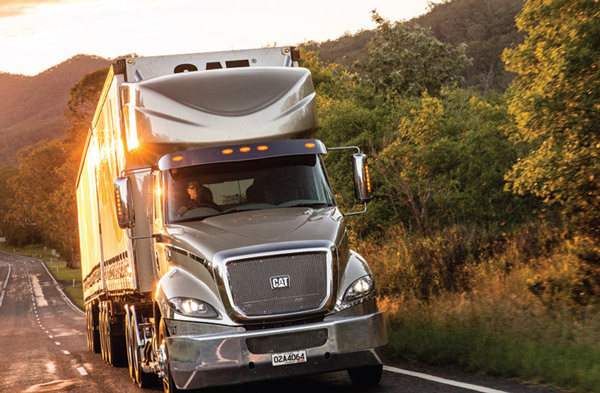 Performance
I should say at this point, I've already driven the S, or an earlier incarnation of it. Late last year I took one of the engineering development trucks in service to a line-haul fleet for a trip from Melbourne to Brisbane and back again for a sneak peek.
Being an engineering truck it was a bit rough around the edges, which is only to be expected.
However, I did walk away with some concerns around the S models' ride and handling as it seemed to be a bit all over the shop on the rough, rutted Newell Highway.
This truck was equipped with an earlier two-leaf spring front end, which didn't help matters much, plus it was riding on a 4,600mm wheelbase with only 100mm of lead in on the trailer pin.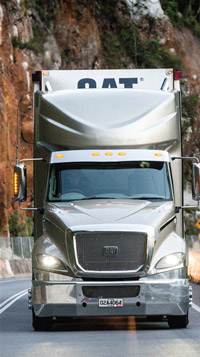 All this in conjunction with what turned out to be a pretty dry turntable made it a bit of a handful on some sections of the road.
However, more than six months later I recently found myself standing before a production version of the B-double shuffler.
This time I was towing a set of counterweighted trailers, grossing a shade over 60 tonnes, and yet again I was Brisbane-bound.
This version was equipped with the standard three-leaf spring front end and was riding on a 4,800mm wheelbase, and just to ice the cake it was also running a 200mm lead in on the trailer pin.
Within minutes of leaving Cat HQ in Tullamarine, it was very apparent this was a very different beast on the road altogether.
Last time, I'd had to load and unload both ends and, heaven forbid, even worked up a sweat.
This time I had one of my more senior colleagues along for the ride, so I only had to kick back and drive.
The first day of the trip involved a lot of fog until the sun emerged between Jerilderie and Narrandera. By then I'd settled in quite easily and was watching the countryside roll by.
The 15-litre is a very present yet pleasant soundtrack but not intrusively so and the tune played by the twin choofers out back is unmistakably a Caterpillar song.
Hitting the Jake brake to pull back some speed brings out a note that would bring a smile to the face of anyone with a fondness for big yank engines and raise the ire of anyone who doesn't.
As darkness fell between Forbes and Dubbo I flicked on the LED headlights. I've waxed lyrical enough about these in the past so I won't crap on too much. Suffice to say they're good and I'm a convert.
After a civilised overnight camp in Dubbo, we once again prepared to head north. Our truck had only just clicked over 8,000km and the engine certainly felt that new on the drag through the hills south of Coonabarabran.
The tight new engine didn't quite lug down like it should have but I've no doubt that another 50,000km under its belt would tell a different story.
Verdict
As the highway deteriorated further, the ride and handling of the Cat came to the fore. There are plenty of plush riding and well insulated prime movers on the market these days. But get onto an inland highway in Australia and I'll be putting my hand up for a bonneted prime mover.
The steep camber, soft rutted road surface and broken edges of our inland roads can make for a long and tiring trip when wrestling with a soggy riding truck that keeps the steering wheel in constant motion.
Leaning into the camber of the road with one elbow on the door is the traditional 'line-haul sprawl' driving position of inland Australia and only a handful of heavy-duty trucks really nail a comfortable driving position on crap roads for hours on end. Most of these trucks have bonnets , and if my drive in the S is anything to go by, the new Cat platform is one of them.
The three-point cab suspension also takes out the lateral kick from the road and the air-suspended Gramag driver's seat did a good job of ironing out jolts from the road surface.
Foot well room is fine for someone of my stature but others may find it lacking.
With the sun sinking below the horizon we rolled down Cunninghams Gap with the Jake brake thundering.
On the descent, and not for the first time during the trip, it really hit me just how easy and uncomplicated this truck is to drive. It may be asking for level of driver engagement some may not be prepared to give but it is a rewarding bit of gear to operate nonetheless.
It's astonishing really Cat has been able to come up with a truck that seems so at home on Aussie roads in such a short period of time, the brand itself is not yet five years old.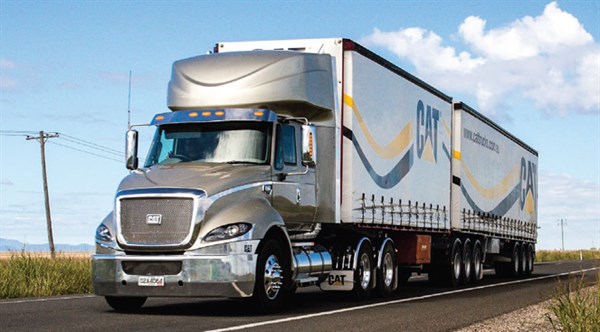 Specifications
Make/model: Cat CT630S
Engine: 15.2 litre Caterpillar C15
Emissions: ADR80/03 (Euro 5) twin diesel particulate filters with passive regeneration
Power: 550hp (404.5kW) @ 1,800rpm
Torque: 1,850ft-lb (2,508Nm) @ 1,200rpm
Transmission: 18-speed Eaton Fuller (Eaton UltraShift Plus AMT optional)
Front End: Three-leaf Hendrickson
Rear End: Hendrickson PRIMAAX EX air bag
Final Drive: Choice of 3.91:1, 4.1:01 or 4.30:1
BBC: Day Cab 2,855mm, Extended Cab 3,515mm
GCM: 90,000kg
Subscribe to our newsletter
Sign up to receive the Trade Trucks e-newsletter, digital magazine and other offers we choose to share with you straight to your inbox
You can also follow our updates by liking us on Facebook. 

Trucks For Hire | Forklifts For Hire | Cranes For Hire | Generators For Hire | Transportable Buildings For Hire