Video Review: Mack Super-Liner MP10
---
Steve Skinner tests the Mack Super-Liner MP10 on a trip up the Australian east coast.

It's no wonder the truck manufacturers have been coming out with a spate of B-double friendly bonneted prime movers in the past couple of years.
The 26m B-doubles are a big growth industry, and they're the forerunner of a likely growth industry of the future: B-triples.
Mack is the latest to join the rush, promoting its impressive Super-Liner as an east coast line-haul/express freight 34-pallet heavy hauler, which can also pull B-triples.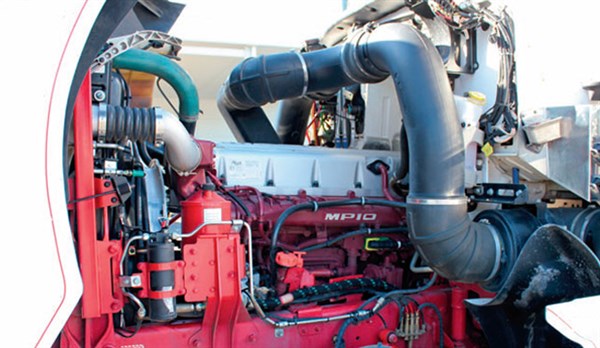 Engine
The Mack Super-Liner, with its big 16-litre MP10 engine, is well-known as an outback road train hauler.
Up to now, the main Macks sighted on freeway line-haul work have been the 13-litre Tridents hauling 34 pallets and the 16-litre Super-Liner with 52-inch (132.1cm) cab pulling 32 pallets.
But Mack also wants customers to have the bigger displacement engine option for 34 pallets in the 26m B-double envelope.
The rig ATN drove was rated at 600hp (441kW) with an mDrive box, on a 5.35m wheelbase with a 36-inch (91.4cm) sleeper and 1,600 litres of fuel capacity.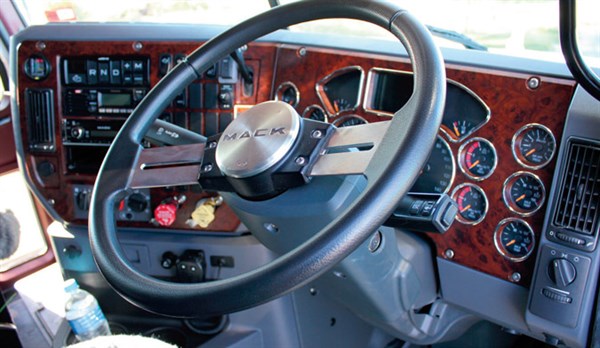 Transmission
Mack vice president Dean Bestwick says the synchronised driveline of Mack's MP8 and MP10 engines coupled with the 12-speed mDrive automated manual transmission (AMT) allows the choice of Trident or the larger Super-Liner to be tailored to line-haul needs.
The transmission build for Super-Liners is running at an "astounding" 96 per cent mDrive at the moment, adding it's extremely popular throughout the Mack range.
"It covers off on every GCM," Bestwick says. "We're going from 70 tonnes all the way through to 290 tonnes, so it's such a versatile transmission in all those applications, and that's been a game changer for us."
Bestwick says the mDrive is more efficient than a conventional 18-speed manual (Eaton or Mack) regardless of how good the driver is, and that old-school reticence about AMTs is becoming a thing of the past.
The MP10 and mDrive are based on the Volvo group's 16-litre engine and I-Shift transmission platforms, but with software changes to suit Mack horsepower and torque requirements.

Cab and controls
Macks are available with the option of a factory-fitted roll stability program, for which Bestwick says there's been "significant demand".
Other electronic safety features, such as lane departure warning and adaptive cruise control/collision avoidance, can also be supplied ex-factory as "customer adaptations", but Mack says there's almost no demand for  them from its customers.
Other safety options include an alarm if the door is opened without the parking brake applied; and disc brakes.
Bestwick says driver airbags aren't proven to save lives however, Mack is looking at curtain airbags in the longer term.
He says having ECE29 crash test compliant cab is critical "and the seatbelt is the single best safety feature of any truck. It's number one".
There's one big problem with the Super-Liner cab we drove — you can't stand up in it.
That's no big deal for a driver who sleeps in his own bed or a depot bunkroom at the end of a line-haul trip, but it could be an issue for someone who spends all week or longer in their truck.
For one thing, you want to be able to get changed without having to be a contortionist.
Mack says a high-rise walk-through cab is under evaluation, and it seems inevitable they will have to offer one for 34-pallet work sooner or later: after all, it's hard to think of any cab-over or bonneted competitor that doesn't.
I have another quibble too. To take the truck off cruise control, you have to either take your eyes off the road to turn the dash button off — which means re-setting all over again — or touch the brakes, which you don't want to do on the crest of a hill with some clown right on your tail.
In contrast, the Volvo stablemate has an engine brake stalk to the right of the steering wheel, which, without having to look, you can pull down to knock yourself out of cruise control.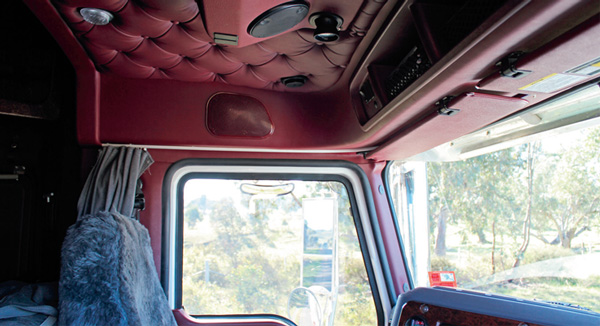 Performance
ATN was hosted by Mack to Albury on the NSW-Victorian border, and took the Super-Liner on a run up Olympic Way to Wagga Wagga; from Wagga to Tarcutta on the Sturt Highway; and then to Sydney along the Hume.
It was a very pleasant trip, to say the least.
Before long, I forgot I was hooked up to a set of tautliner B-doubles holding concrete blocks, the entire combination grossing 58 tonnes.
Just as Mack claims, the sync between the engine and the transmission is seamless. You just don't notice any bad gear changes from the AMT box, and can spend most of your time with your left arm relaxing on the arm rest.
If you want to step from the seat into the bunk, there's no gearstick in the way.
There's plenty of grunt of course, to go with the American-sounding low growl of the engine. We slowed down to 35km/h up Wagga Hill but if you want to go faster you can always boost the power to 685 horses (503.8kW).
The bonnet gives a feeling of security but slopes down well, thanks to the splayed chassis rails at the front, allowing the engine to sit lower than in Super-Liners of old.
The standout feature in my book is comfort while retaining good road feel, thanks in no small part to the relatively long wheelbase, cab air supports and excellent Isri seat.
There are a couple of very rough sections on the Olympic Way — most notably between the lovely little towns of Yerong Creek and The Rock — but the big Super-Liner handled the sharp undulations with ease.
Most importantly, it held its line perfectly as we passed other trucks on particularly bad stretches of single-lane, without any wallow or sway. You don't have to fight the steering wheel.
The truck handled superbly when veering into the rest area entrance at Coolac after a split-second decision.
Out on the freeway, you could be in your lounge chair at home. It's remarkably quiet inside the cab, and the radio covered the sound of a couple of minor squeaks and rattles the truck has developed after 270,000km as a fleet seed unit.
For going down steep hills, hitting the 'maxi' brake button on the dash will automatically kick down gears to give maximum retardation from the 'Powerleash' combined engine and exhaust brake, without going into the redline, until your foot goes back onto the accelerator.
There is bluetooth connectivity, USB connection and any sort of computerised engine information you could want.
I deliberately took the Super-Liner into the Shell at Sutton Forest, knowing that there's a tight little roundabout involved.
The truck passed the vision and manoeuvrability test well; and then reversed into a parking bay as well as can be expected in a bonneted truck.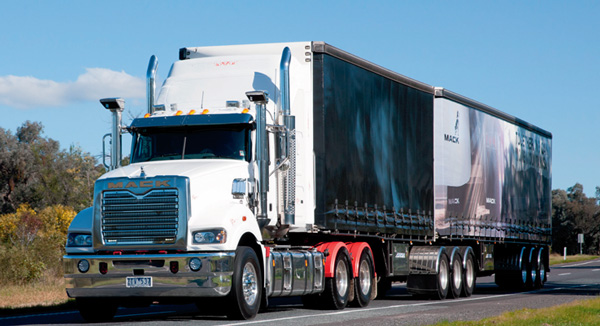 Specifications
Make/model: Mack Super-Liner
Engine: 16-litre MP10, selective catalytic reduction (SCR)
Power/torque: 600hp (441kW); 2,800Nm
Engine braking: 570hp (425kW) at 2,200rpm
Transmission: 12-speed mDrive AMT
Wheelbase: 5.35m; 36-inch (91.4cm) sleeper
Subscribe to our newsletter
Sign up to receive the Trade Trucks e-newsletter, digital magazine and other offers we choose to share with you straight to your inbox
You can also follow our updates by liking us on Facebook. 

Trucks For Hire | Forklifts For Hire | Cranes For Hire | Generators For Hire | Transportable Buildings For Hire