Used Truck: Shaun's Mack Trident and R-Model
---
This Victorian earthmover loves getting behind the wheel of both his new Mack Trident and his 1978 R model, which is still going strong.
When Shaun Walsh wanted to buy his first new truck last year, it was always going to be a Mack.
The 35 year-old from Wodonga on the New South Wales-Victorian border was already a Mack veteran of more than two decades' standing.
At the age of 13, Shaun was driving his old man's R model around the family trucking and machinery yard, and by 14 he was working it on private roads.
That 1978 R model was the first new truck his father, Kelvin, ever owned — and it's still going strong for Walsh Earthmoving.
Shaun is managing director of and a partner in the family business — which also involves his mother Carol and brother Darren — but he's also got a sideline business of his own, involving several trucks and trailers.
The star recruit to Shaun's personal fleet is a Mack Trident, with its MP8 535hp (393kW) engine and 12-speed mDrive automated manual gearbox.
Its bread and butter is working for the wider family business, pulling quarry products in front of a 19m Stag B-double. It's also used for heavy haulage float work.
As well as continuing to run the family business, Shaun drives his Trident as often as he can.
"I love the trucks," he says. "It's good fun".
The Trident's versatility is part of a company strategy of using bigger gear to service less clients. More on that later.
Youthful Exuberance
When Shaun was about 22, after doing a Caterpillar apprenticeship in Albury, he spent a couple of years clocking up 300,000km in the R model as an employee of his parents' business.
His father Kelvin had branched out from logging at Mitta Mitta to earthmoving in the 1970s, with the construction of the nearby Dartmouth Dam in Victoria.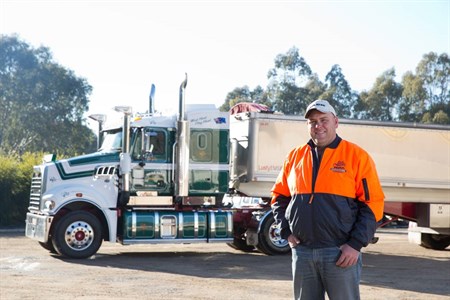 The R model was only being used to occasionally pull a machinery float, and had only done half a million kilometres (it's still done less than a million).
But Shaun talked Kelvin into letting him fit a quick-release body so it could be used as a truck and dog as well.
The 6 cylinder E6 two-valve engine originally pushed out 285hp (213kW), but by upgrading the turbo and fuel pump that had been upped to 350hp (261kW); and the original twin-stick five speed gearbox had been replaced with a 12-speed Mack transmission. The original heavy duty Mack camelback spring suspension remained.
Shaun put in an air suspended El Dorado seat and an upgraded stereo, and away he went on the highway, carting heavy machinery and quarry products.
"I absolutely loved it, it was my pride and joy," says Shaun of the old Mack.
"It used to shine.
"It was quite an old truck going down the highway, but it didn't look like an old truck."
The R model must have sounded impressive, because Shaun sometimes wore earplugs. The day cab didn't bother him either — sleeping mode was across the seats with feet out the passenger window and pillow propped up against the driver's door.
A dozen years on and Shaun says the old Mack has been an "excellent truck," is still going strong, and "the boys all love driving it".
He wants to have it fully restored for the 50th anniversary this year of Kelvin working in the trucking game.
Mack Smarts
As well as being managing director of Walsh Earthmoving, in the past three years Shaun has built up a small fleet of his own five trucks and trailers and wheel loaders under the banner of SB & K (wife Kylie) Walsh.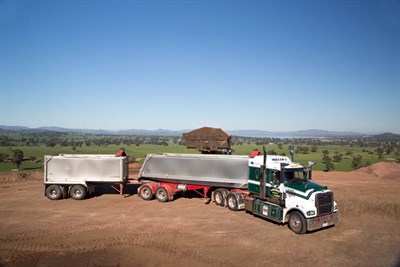 "I'm a fairly driven person; see opportunities come across my desk every day. When I knock off and go home I sit there and wonder how am I going to make my next dollar?
"I had always spoken to Roly [Roly Gear, from CMV Truck and Bus in Wodonga] about buying a new Mack. I think they are the smartest truck on the road, and I finally got up the courage to jump into one.
"It's a big financial step I suppose, [but] I live pretty comfortable and don't have too many worries and when you go and pay high 200s plus a set of trailers, if work's quiet and it's parked up there for a week or two, you want to be sitting pretty comfortable so you're not under too much pressure.
"If it parks up it parks up, don't sort of worry about it," Shaun concludes.
Mind you, the Trident has a regular weekend use, towing Shaun's horse trailer around for cutting and campdrafting events.
Technology Fan
I was flown by Mack to Albury to test drive a new Super-Liner back to Sydney, and visited Walsh Earthmoving while in the vicinity, before heading off.
No wonder Mack was keen to take us there, because Shaun speaks as enthusiastically about his new Trident as any Mack salesman could.
"I've spent quite a lot of time in that truck, and I will definitely spend more and more time driving it," says Shaun, admitting he is reverting to his teenage years.
He likes the integration of Mack into the Volvo group; Volvo group technology and reliability; selective catalytic reduction (SCR) emissions control systems; Mack steering; Mack braking; the integrated driveline; and he says the mDrive "is the best transmission I've ever driven".
Perhaps most interestingly, Shaun says the Trident has spent a lot of time in Victorian high country, and "the way the engine makes its power for a 535 [hp] running nearly 60 tonnes in the hills, it fair cracks — it goes really well".
Regular work has ranged from carting products from the company quarry just north of Albury to a government depot construction job in the Victorian Alps; to tipper work for a local sales yards construction job; to "heavy-heavy" haulage with a float and dolly, with the Trident rated to 70 tonnes.
Bulldog and Stag
That gets onto the Trident's matching Lusty EMS Stag tipper trailers. These enable the short bonneted prime mover with set forward axle and 36-inch (91cm) sleeper and trailers to fit into the 19m 'pocket' B-double envelope, while still grossing 56.5 tonnes with 36.5 tonnes payload. That's a lot more payload than the Trident would be able to pull as a typical truck and dog.
You increasingly see these interesting set-ups on the road. Shaun describes his combination as a "truck and quad dog in reverse".
The long A-trailer is hooked up to the prime mover turntable, with the short B-trailer connected by a drawbar. They tip in the same fashion as a conventional truck and dog.
Not only do they enable more weight when combined, but the A-trailer alone as a semi tipper can carry 25 tonnes if tight access is an issue; and the set can be quickly unhooked if you want to use the prime mover for something else.
Walsh says the downsides compared with a truck and dog become evident in tight access areas in town, and in boggy conditions.
He says the new 19m B-double combination — as well as a performance based standards (PBS) quad dog being pulled behind a 904 Kenworth — is part of a company strategy of using bigger trucks (mostly Macks and Kenworths) and bigger earthmoving machinery, with similar fuel burn and less staff.
Walsh Earthmoving has also reduced its client base to "just our core clients, doing just quality work — the work that we enjoy".
And getting back to where it all started for him, Shaun adds "Whenever I see the opportunity I want to get back out there and steer the trucks as often as I can".
Subscribe to our newsletter
Sign up to receive the Trade Trucks e-newsletter, digital magazine and other offers we choose to share with you straight to your inbox
You can also follow our updates by liking us on Facebook. 

Trucks For Hire | Forklifts For Hire | Cranes For Hire | Generators For Hire | Transportable Buildings For Hire