Hino 300 Series 921 crew cab truck video review
---
Hino's new high horsepower light-duty 300 Series 921 crew cab truck has plenty of get-up-and-go, but its best attribute is probably its safety technology.

The new leader in the light-duty grunt stakes is Hino with its 300 Series models, breaking the double century barrier by maxing out at 205hp (151kW), which Hino says is the most power in its class. Torque is a relatively massive 600Nm.
Mind you Isuzu is not far behind in the horsepower stakes and Iveco might soon be up there too, but they're a long way off matching the new Hino's torque.
Hino also says its 300 Series safety features including seatbelt pre-tensioners; driver and passenger airbags; ECE R29 crash conformity; ABS; traction control and vehicle stability control (VSC), also make it the safest light-duty truck.
That's correct if you don't count similar weight European van cab-chassis as trucks, but more on that later.
Engine
The smaller 4-litre Hino 300 Series is rated at up to 165hp (123kW) with 460Nm of torque, but for around $5,000 extra (depending on the specs, of course) you can now choose the high horsepower version with its 5-litre engine. It's not that long ago this engine was in Hino's medium-duty 500 Series trucks.
Hino Australia's Product Strategy Manager Daniel Petrovski says Australians love power, but it's not just a macho thing.
"By giving the customer enough power and torque to get off the lights, they don't have people driving around them, pulling in front, they keep up with the traffic and it's a lot less stress," Petrovski says.
He says country cousins will also appreciate the extra horses and fuel capacity that comes with the new models.
"They will have 200hp that sits on 100km/h at about 2,000rpm, ticking along, good fuel consumption, plenty of power to carry the loads they're doing.
"With the 170-litre fuel tank they don't have to pull up to fuel up all the time."
Petrovski reckons the standard 170-litre fuel tank will also appeal to city customers by saving them a lot of 20-minute visits to the service station.
He anticipates the high-horsepower units will appeal for every type of application in the 2- to 4-tonne payload area, from city plumbers to outback council trucks; from tippers, elevated work platforms and pumpers to tilt trays and tautliners and fridge vans. But not the booming area of online parcel delivery, which Hino says is more the preserve of your smaller car-licence truck.
An impressive eight pallets is possible with the crew cab, depending on the body you put on it.
You can drive this new high horsepower Hino on a car licence too, but only the versions up to 4.5 tonnes GVM; perhaps ideal for your grey nomads pulling a trailer.
At the other end of the scale is the medium rigid truck licence version grossing 8.5 tonnes with a payload up to 4 tonnes.
With the new high horsepower models the 300 Series now has a dozen variants, including the hybrid diesel-electric.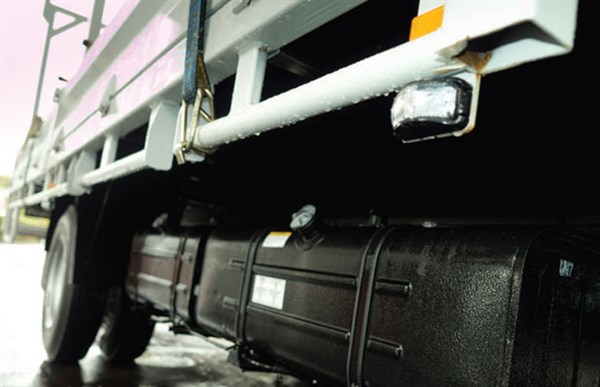 Performance
We recently drove the 300 Series 921 from Sydney down to Wollongong and back, taking in one of the steepest bitumen highway hills in Australia.
The '9' in 921 stands for 8.5 tonnes GVM rounded up, and the '21' stands for 205hp also rounded up.
The 921 has the Aisin 6-speed fully automatic gearbox. The manual version is called the 920 because it's just shy of 200 horses — the manual tranny can't handle as much grunt as the auto, so the engine is de-rated.
Torque on the manual is 510Nm compared with 600 in the auto.
The auto is the same high-volume Aisin brand that is in other Toyota group vehicles, such as the legendary LandCruiser, as well as a lot of American pick-up trucks. It's extremely smooth: you can hardly notice the gear changes.
Just as Petrovski predicted, we cruised down the freeway between Sydney and Wollongong at 100km/h at just a touch over 2,000rpm, with a payload of wet sand weighing a bit more than 3 tonnes.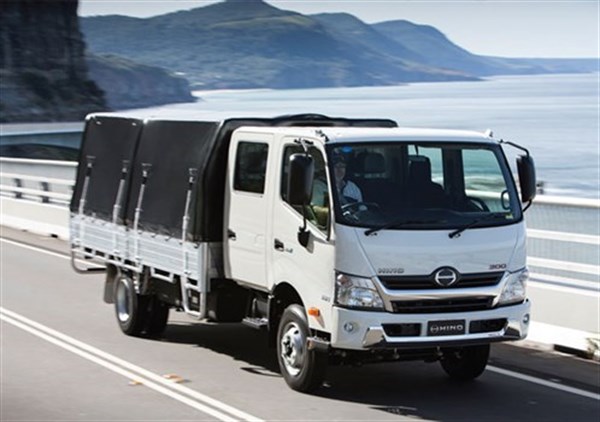 On the flat parts, the Hino felt like a young horse that you have to keep pulled back.
In fact you could easily find yourself in trouble with highway law enforcement, because there's no cruise control to keep you in check.
However, Hino says cruise control is coming within 12 to 18 months.
The little truck pulled well up the steep grades on the freeway, dropping down to just 75km/h or so. On one of these long hills we raced past an old smoke-blowing Daihatsu tipper that seemed to be almost stopped.
The engine even sounds powerful, something like a cross between a V8 and a big single cylinder Triumph thumper motorbike.
It was going up the very steep Mount Ousley on the edge of Wollongong that the high-power Hino really lived up to its name.
The little truck cruised up more like a car than a truck, at times reaching the speed limit for cars of 80km/h and not dropping below about 60km/h. Very impressive, indeed.
Brakes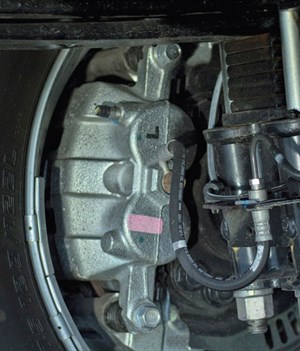 Going down Mount Ousley — as with cruising the freeway — the little goer again risked unwanted attention from the authorities; they hate seeing brake lights coming on down these really steep hills, for fear of brakes failing.
The exhaust brake on the 921 feels like it wouldn't pull the skin off a custard, and surprisingly the Aisin auto can only be manually set as low as third gear, therefore revving only as high as 1,800rpm — which meant the foot brake often needed to be used to keep the vehicle below the 40km/h speed limit.
Mind you, it felt like there was never any risk of brake fade, especially with the four-wheel ventilated discs, which is another good safety feature of this truck. Hills like this are very few and far between in Australia anyway.
The brakes feel like they need a fair bit of foot pressure, but it's reassuring to know that there is 'emergency brake assist' involving an electronic booster when the system detects you want to stop in a real hurry.
The exhaust brake does come in handy down lesser hills at fifth gear, by working close to the red-line and by telling the gearbox to stay in fifth when your foot is off the throttle.
Toyota cars (such as my Camry — yes, I admit I own one) use a similar principle and it's a beaut feature when you drive down Lapstone Hill in the Blue Mountains, which is steep enough to be a 60km/h truck zone.
Handling
After going back down Mount Ousley again it was back to Sydney via the hilly and windy coastal route.
The little unit steered and handled remarkably well. That could have something to do with the wider chassis rails needed to cater for the bigger engine and payloads (the truck is also a few centimetres higher).
The straight rather than tapered rails are 840mm apart — rather than the 750mm for the standard versions — and Hino says that enables slightly more stability because the springs are further out.
Mind you, we never push the envelope on corners, especially as it was a rainy day.
That this brings us to what is probably the highlight of this little Japanese truck — and it's got nothing to do with power.
The entire 300 Series range has vehicle stability control (VSC) — which is mandatory in cars — as standard.
"VSC can save lives in the situation where a driver takes a corner just a tad too quickly and would otherwise hit the brakes and skid across the road or roll over," Petrovski says.
"VSC can sense that that is going to happen; it will bring on the individual brakes on the vehicle and de-power the vehicle and help the vehicle turn to where that steering wheel is pointed … So it corrects some of those mistakes.
"It can't eliminate all crashes of course, because sometimes you've just gone too far and too quick."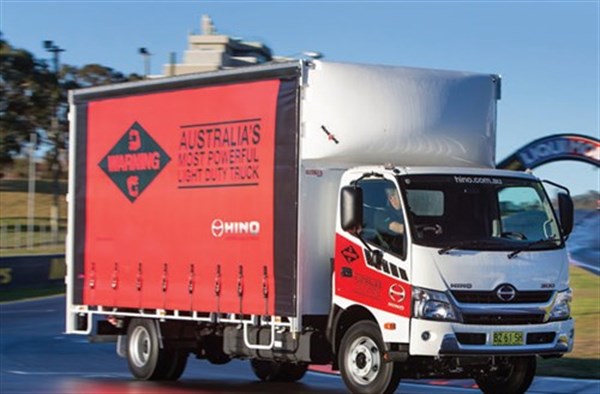 Competition
It seems to us the Hino 921 can indeed safely lay claim to being the most powerful and safest truck in its class — as long as you're only talking about light-duty Japanese trucks.
For example, the comparable Isuzu NQR 450 Crew Premium with automated manual transmission (AMT) and a GVM of 8.7 tonnes, has a power rating of 190hp (142kW) with peak torque of 510Nm.
While the 300 Series may be the only light-duty Japanese truck to have stability control, it's standard or optional fare with European cab chassis boasting payloads and power similar to many small Japanese trucks.
Take the new Iveco Daily 70C17 cab-chassis, with the option of electronic stability program including 'rollover mitigation'.
It's got a GVM of 7 tonnes and a payload up to 4 tonnes in the crew cab version, which is on a par with the Hino 921.
There's a twin turbo version of the Daily, which may come to Australia with the same 205hp as the Hino. But the torque is much less — 470Nm @ 1,250rpm to 3,000rpm.
The Iveco is not the only European cab-chassis with a surprising amount of power.
For example the Mercedes-Benz Sprinter 516 — which has stability control as standard — can carry up to 3 tonnes with its little 2.2-litre engine putting out 190hp (139.7kW), but only 440Nm of torque.
Petrovski acknowledges the European competition for baby Hinos.
"There have been a couple of key customers who have bought some van-based product," he says.
"But we expect they will be coming back to trucks quite soon when they see the differences between a Japanese truck and a European sourced van type product in terms of reliability and durability.
"There's a big difference between the two types of products."
On the wider issue of fuel consumption, won't the more powerful 5-litre Hino be a fuel guzzler?
"Definitely not," Petrovski replies. "We have geared this vehicle so well it will actually use the same or less in some circumstances then the 4-litre or our competitors.
"The biggest influence on fuel consumption is the driver's right foot, so you can have much smaller engines using more fuel then our 5-litre, 200hp vehicle."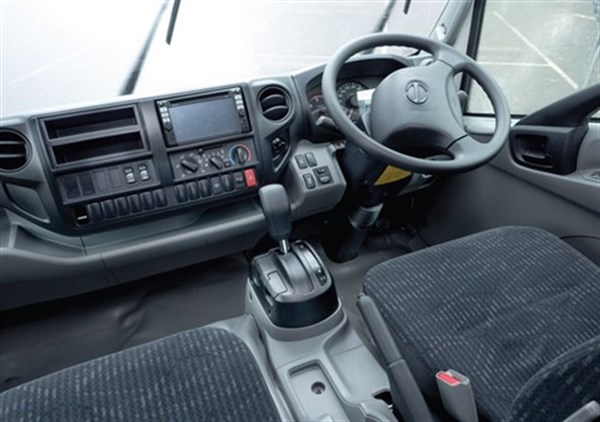 Cab and Controls
There's a lot to like inside the 300 Series Hinos.
Electric controls for the heated mirrors that don't obstruct vision; excellent visibility thanks to the very thin A-pillars manufactured using high-tensile steel; multimedia unit with reversing camera; rear cab heating and air-conditioning; handy overdrive on/off
button; a green 'eco lamp' indicating when you are driving most economically, and so on.
The driver's seat has torsion bar suspension with a magnetic dampener. Don't ask how that works but it does, very comfortably.
However we also had a few quibbles with the 921.
The windscreen demister wasn't working, presumably busted by the company, which had been using this unit as a demonstrator.
There was no grab handle to get in and out of the back of the crew cab, which Hino concedes is an issue and says it will make a 'running change' to install one.
The truck was also perhaps a touch on the noisy side, and at times you can feel slight vibration when lugging up a hill in a gear that might be slightly too high.
Maybe both issues are due to the crew cab — by not allowing engine noise to escape out the back as well as a single cab might; and by needing internal engine inspection, which maybe involves less insulation than the single cab version.
Specifications
Make/model: Hino 300 Series 921 crew cab
Engine: JO5E-UJ 5-litre; Diesel Particulate Active Reduction System (DPF) emissions control
Outputs: 205hp (151kW), 600Nm of torque from 1,400rpm
Transmission: 6-speed Aisin automatic with double overdrive
Weights: GVM 8.5 tonnes, GCM 12 tonnes, payload up to 4 tonnes
Retail price: Less than $70,000
Subscribe to our newsletter
Sign up to receive the Trade Trucks e-newsletter, digital magazine and other offers we choose to share with you straight to your inbox
You can also follow our updates by liking us on Facebook. 

Trucks For Hire | Forklifts For Hire | Cranes For Hire | Generators For Hire | Transportable Buildings For Hire