Isuzu NPR 65-190 truck review
---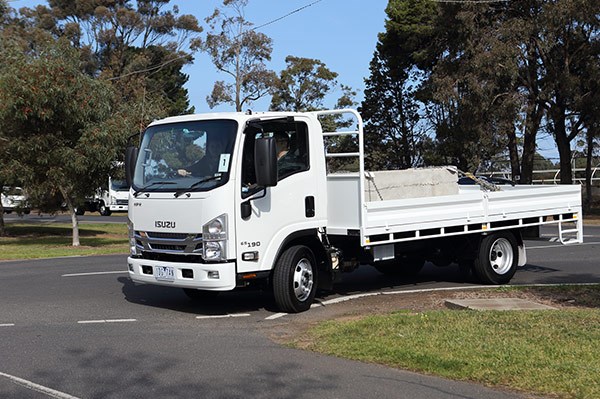 Little goer: this NPR 65-190 tray-top boasts 190hp for just 6.5 tonnes GVM.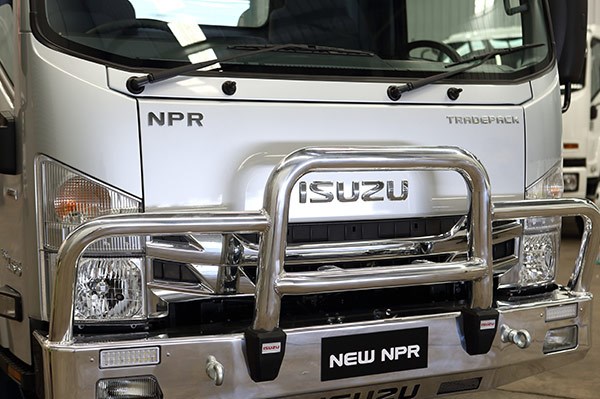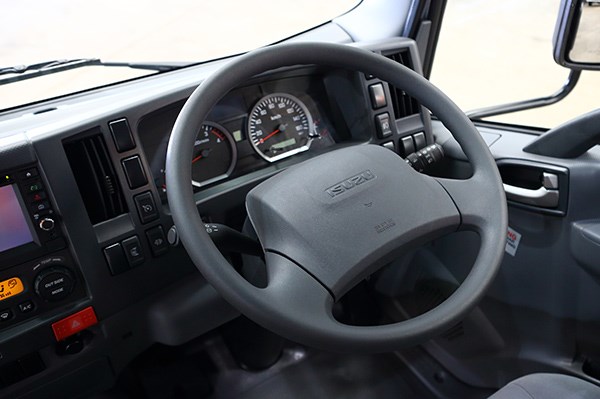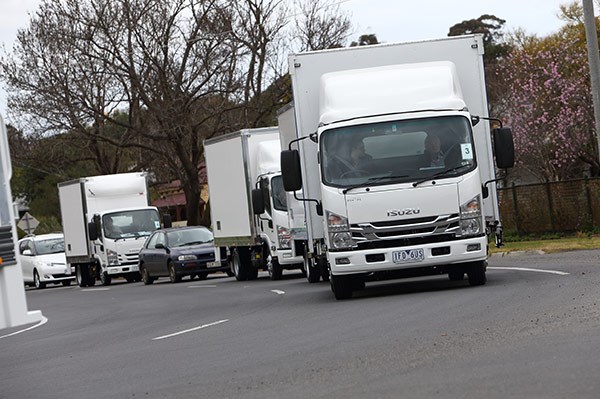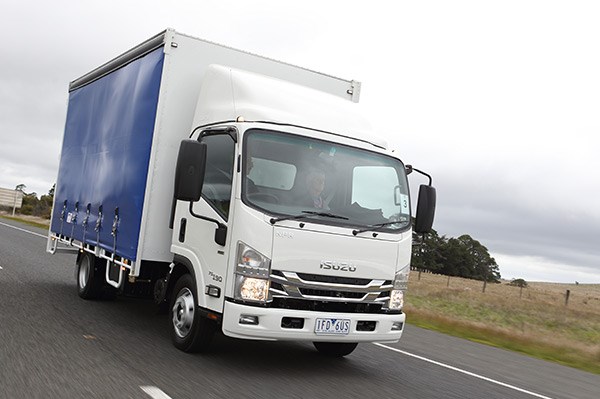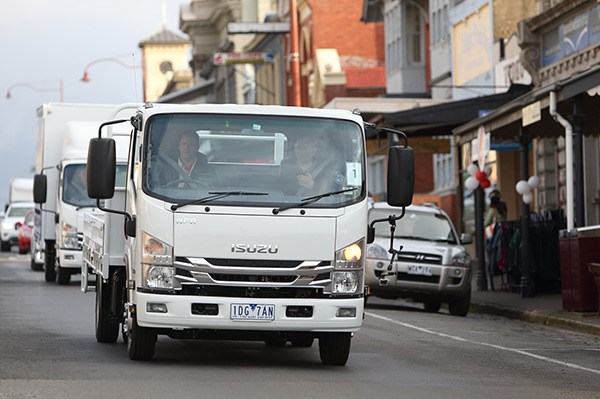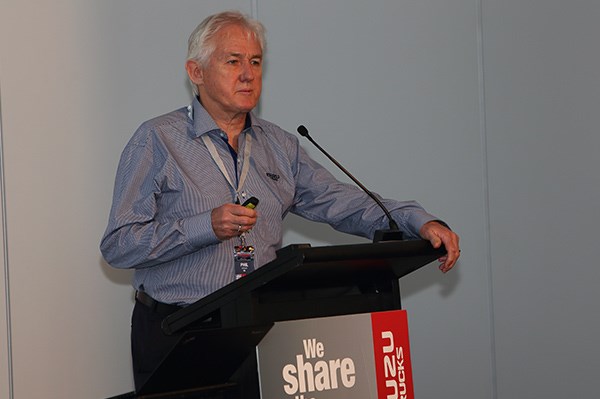 Isuzu Australia COO Phil Taylor.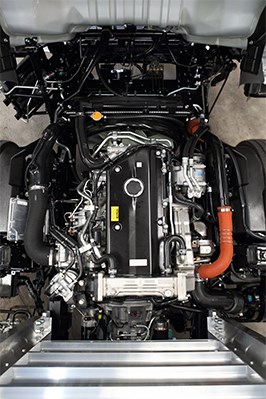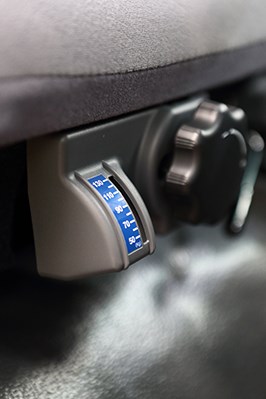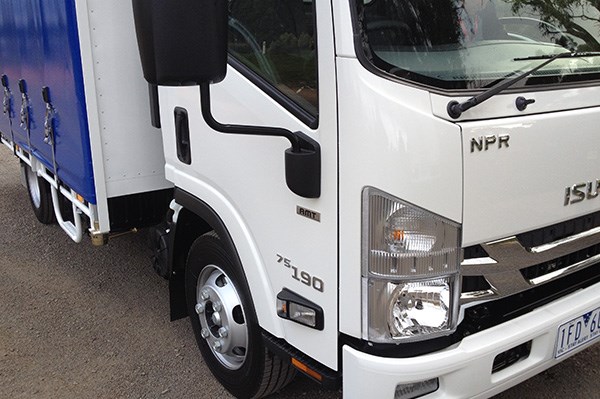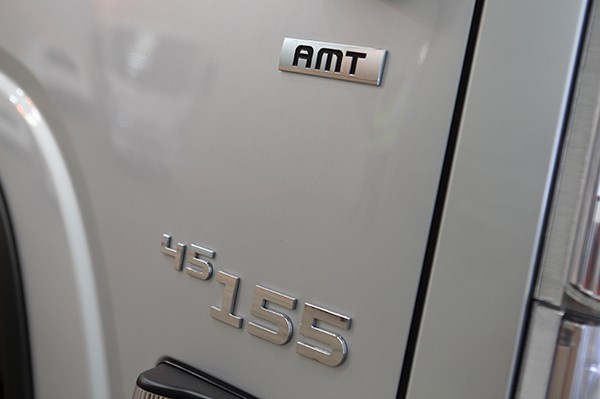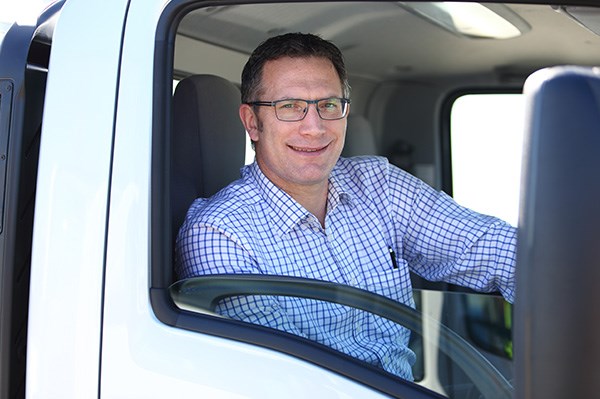 Product strategy chief engineer Simon Humphries.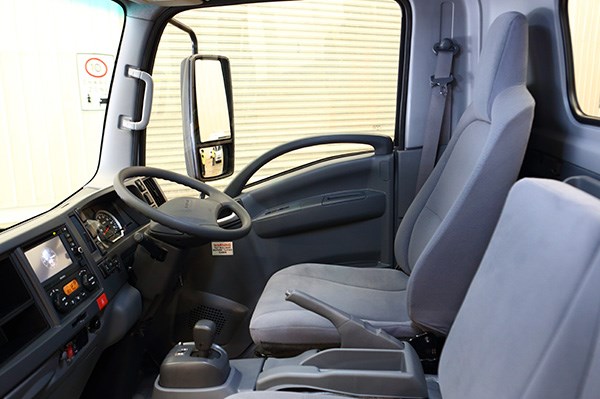 The new N series Isuzu light-duty trucks are now available in Australia, with a big power boost to some models and electronic stability control across the range.

We tend to take high power and torque for granted these days, but it wasn't that long ago big trucks had the engine ratings of today's small trucks.
Just ask Phil Taylor, one of the most influential people in the Australian trucking industry.
Taylor is COO for Isuzu Australia, by far the biggest supplier of trucks in this country, and the market leader for the past 26 years.
He's also into his fifth term as president of the Truck Industry Council (TIC), which represents truck and engine suppliers in Australia.
Taylor cut his teeth in the Australian truck game selling Fords in the early 1980s.
Back then, the flagship of the Ford fleet and a highway hero was the famous Louisville, immortalised in the video clip for Slim Dusty's classic but tragic 'Lights on the Hill' song.
Smaller Louisvilles were also popular in vocational roles, and it's these models that show just how far trucks have come in power and torque.
Taylor remembers selling Louis with V8 Caterpillar engines rating as low as 175hp (129kW).
When he moved to Isuzu in the early 1990s, 175hp was still well and truly in the medium-duty truck range.
But now Isuzu has come out with some new N series light-duty trucks boasting 190hp (140kW), pulling as little as 6.5 tonnes all-up.
Along with the introduction of electronic stability control (ESC) across most of this baby Isuzu range — an important safety feature — the boost in power is clearly a significant step forward.
And Isuzu says it doesn't come at the expense of fuel economy.
Urban Pressures
More technical detail about the new N series later, but first let's set the scene for them.
Taylor uses the great British band Queen to make a basic point about modern Australian consumers.
"These days we seem to want it all, and we want it now," Taylor says.
"Like it or hate it, the smartphone era has bred consumers that expect results without delay."
Combine that demand for numerous small deliveries in a hurry, with other factors such as rapid population growth in the cities and a building boom in some of them, and you have a formula for the strong growth in light-duty truck sales that Australia has seen in recent years. (There are a lot more vans on the road these days too, of course.)
Isuzu points to census data showing a growth of more than 20 per cent since 2009 in light rigid truck registrations, to a current total of about 135,000.
To most of us, these little white, mostly Japanese, reliable and fuel-efficient trucks probably all seem the same.
The sales leader in this segment for 26 years has been the N series Isuzu.
But Isuzu is clearly not resting on its laurels, and one of the key ways it's trying to differentiate itself from the pack is through the information revolution — for example, through telematics.
Isuzu is well down this road with its 'Connect' and 'Connect Plus' offerings, which TradeTrucks has reported on previously, and for which Isuzu now boasts some impressive customer testimonials.
Telematics enables such things as remote real-time monitoring of truck location and performance and driver behaviour.
Taylor says telematics is an important part of satisfying the customer demand for goods-right-now, and it's a clear justification for calling his trucks "intelligent".
"It's just another way we are working to satisfy the public's hunger for immediacy," he says.
Taylor flags a further development, with Isuzu looking into the possibility of importing entire daily trip itineraries into the truck system, so a driver doesn't have to enter each new destination manually.
Of course a lot of Isuzu customers are not freight or truck people at all. Isuzu says, for tradies, the N series has a power and torque advantage over traditional diesel utes.
Maybe we'll soon start seeing crew-cab baby Isuzus turning up at the kids' weekend sport.
Isuzu and ISIS
Along with the new N series, Isuzu has released updated software enabling customers to tailor a truck to their specific needs, calculate its performance under load and work out how much it will cost over a lifetime.
The Isuzu Sales Information System (ISIS) software can now also be used on the next generation of touchscreen tablets and laptops. It's part of Isuzu's 'intelligent' theme.
The company says ISIS enables dealers to use customer information in coming up with a fit-for-application trucking solution.
Just as well too, because there are an incredible 160 or so Isuzu models to choose from. About 45 of those are N series, in all sorts of configurations including crew cab, narrow cab, tippers and off-roaders.
'Cloud' storage of ISIS info can also be accessed by Isuzu truck dealer sales staff on compatible devices at a later date. There are secure logins of course.
Isuzu Australia product strategy chief engineer Simon Humphries says ISIS 8.0 provides customers with a full electronic report on a truck, using the latest technology.
"ISIS 8.0 allows full touchscreen functionality on many tablets, laptops and hybrid devices operating on Windows 8.1 and above," Humphries says.
"This means the sales consultant can 'build' the customer their own Isuzu truck, in front of them — in any location.
"The new version of ISIS will also still function well on older desktop PCs and laptops without touchscreens.
"All ISIS solutions generated at Isuzu Truck dealerships can be stored onto a 'cloud' server for access by customers operating on any Windows compatible device around the country," he says.
"This also means Isuzu Australia can study what our customers are looking for and continue to fine-tune our product and service offerings into the future."
ISIS 8.0 has been updated with the new National Code of Practice for Heavy Vehicle Modifications checklist, which can be completed within an ISIS "workout".
"Not only can ISIS provide you with detailed whole-of-life costing, we can also provide you with a full analysis of how that truck will perform once loaded and over varying road conditions," Humphries says.
The new N series range
Without further ado let's look at the new Isuzu N series light-duty trucks, now available in Australia.
Isuzu says the new N series is not only more intelligent but has more safety features, more power and torque in several models, improved cabins and a "slick" new look.
Plus, the entire N series range has received an updated new front end look along with a new, easier to understand naming system based on GVM and horsepower.
For example, a 7.5-tonne GVM unit with 190hp (140kW) is now called an NPR 75-190.
Engine
The NLR models retain the 3-litre engine, producing 110kW (150hp) and 375Nm of torque.
But Isuzu says several of the "highly popular" NPR models, up to 7.5 tonnes GVM, have received a "substantial upgrade in power and torque" courtesy of the
5.2-litre engine putting out 140kW and 513Nm. This is a 22 per cent boost over the superseded models.
"In AMT [automated manual transmission] models, the NPR now boasts a 27 per cent power advantage over competitor models with two-pedal operation," Isuzu says.
"In a move aimed at broadening the Isuzu light truck model mix eligible to be driven on a car driver's licence, NPR 65 models are also available as a de-rated NPR 45-190 (4.5 tonnes GVM, 190hp), providing ample power and torque levels in a car driver's licence truck."
In fact, there are now an amazing 25 car licence variants of the new N series.
Cab and controls
Perhaps the most important new feature the N series receives is Isuzu ESC (IESC), which applies to all NLR, NNR and NPR models. It means Isuzu has now caught up with Hino in this significant safety feature.
IESC works in harmony with on-board technology to govern and rectify dangerous driving occurrences such as potential rollover, via automated engine torque and braking reactions.
Stability control complements another Isuzu safety highlight in having both driver and front passenger airbags and seatbelt pre-tensioners.
New seat trim and a new steering wheel are featured across the range, and many models now include an uprated driver's mechanical suspension seat, rated to 130kg.
The 'flagship' NQR models, rated at 8.7 tonnes GVM (or optional 8-tonne rating for operation on a Light Rigid truck licence) receive the premium spec level upgrade (except the tipper).
This includes chrome grille, fog lamps and automatic climate control air-conditioning, as well as the new steering wheel and seat trim.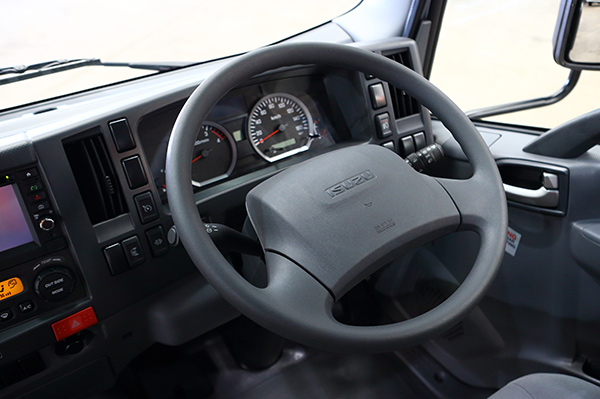 Performance
TradeTrucks was recently hosted by Isuzu along with other truck journalists to test drive a selection of new N series trucks on the urban roads, highways and byways between Westar Truck Centre at Derrimut in western Melbourne and Ballarat Isuzu.
Even narrowing the almost bewildering range of N series trucks down to six is too much to review all at once, so here are a few overall observations, focusing on the NPR 65-190.
The increased power was quickly evident in the NPR 65-190, which, like all the review trucks, was loaded to 80 per cent of its maximum weight.
The little manual gearbox tray-top was quick off the mark and once up to 100km/h you had to hold it back.
Unfortunately, there was no cruise control in this manual version, but Isuzu says that is coming.
We got so far ahead of the rest of the fleet that we had to slow down to 80km/h going up a long hill on the Western Freeway
near Bacchus Marsh, but it pulled well in top gear even at that low speed, courtesy of the more than 500Nm of torque.
Even the lower power models performed fine up the hills as long as you hit the 'power' mode button on the AMT versions, which keeps them in the lower gear longer. But if you leave the AMT in 'economy' mode up a steep hill, the gearbox tends to jump up and down too much.
There is the option of using manual mode, but other than experimenting with it, I didn't feel the need to use that.
My only quibble with either the AMT or manual transmissions is that in one of the manual models, second gear was a bit hard to find with a narrow gate.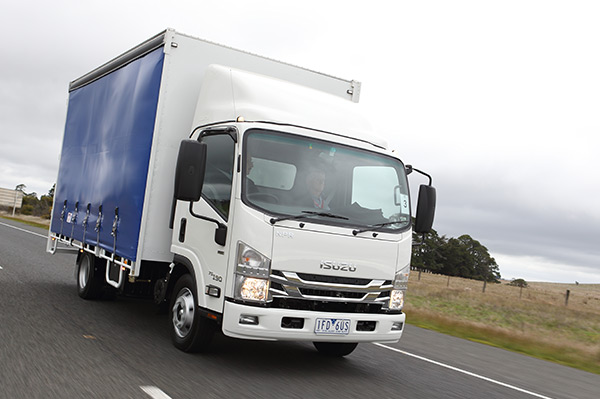 The only downside with the tray-top was the rough ride at first, on the rough secondary road coming into Bacchus Marsh.
But this was the only truck I experienced that in, despite driving a couple of others across fairly rough bitumen as well.
At least the tray-top had the mechanical suspension seat common to many of these models, which helped smooth out the bumps.
Ironically, the ride was so good in the rest of the trucks that I didn't notice a couple of them didn't have suspension seats.
A surprising option is independent front suspension in some models.
Navigation issues
This writer has always been dubious about relying on GPS, and unfortunately that scepticism wasn't reduced on this drive.
I'll wear most of the blame though, for missing a turn suggested by the voice in the GPS, because of talking too much to Isuzu marketing manager Jeff Birdseye, who has been with Isuzu and its previous owner, General Motors, for decades.
But once that human mistake was made, the technology didn't seem to be able to get us back on track, and things got a little chaotic.
At one stage, we found ourselves driving past the rest of the convoy in the wrong direction.
Later on, the GPS guided us off the wrong exit on a rural roundabout, so I was feeling pretty sheepish by the time we ended up back with the main party.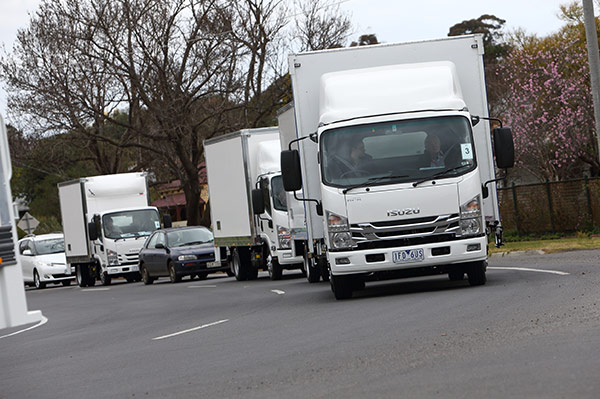 However, as it turned out we weren't the only truck to experience a similar problem, and five minutes later another one turned up carrying none other than Isuzu Australia managing director Koichi (Mike) Yoda.
Like the rest of the Isuzu guys, Yoda is very pleasant driving company and he had some interesting anecdotes about Japan.
One is that the equivalent light-duty trucks all have the smaller engines, because most of the big coastal cities are flat, and there are heaps of tunnels through hillsides elsewhere.
Another is that bodies on Japanese trucks aren't allowed to be wider than the chassis. That would have been handy when at one stage we were being slightly buffeted by strong wind on the open road in a boxy Pantech.
Earlier in the day during his official presentation, Yoda had pointed out that the N series is the top selling truck in its class in 19 countries.
That includes Australia, with its heat, long distances, often rough roads and demanding customers.
"If you can meet the market expectations here in Australia, you can succeed anywhere in the world," Yoda says.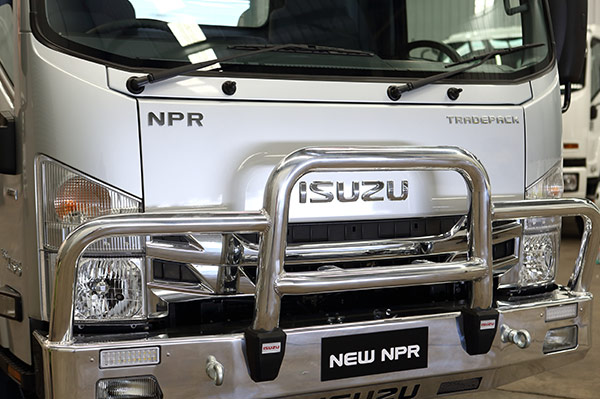 Verdict
In all the baby Isuzus there is a simple, easy to read dash layout; excellent turning circle; great vision; and remarkably little road noise.
Specifications
Make/Model: Isuzu NPR 65-190
Engine: 5.2-litre, 4 cylinder 4HK1-TCC
Outputs: 190hp (140kW); 513Nm
Emission Control: Cooled EGR with diesel particulate diffuser
Transmission: 6-speed synchro or 6-speed AMT
Suspension: Leaf spring, front and rear stabilisers
Brakes: Front and rear discs with ABS, traction control, stability control and hill assist.
GVM: 6.5 tonnes, or optional 4.5t
Subscribe to our newsletter
Sign up to receive the Trade Trucks e-newsletter, digital magazine and other offers we choose to share with you straight to your inbox
You can also follow our updates by liking us on Facebook. 

Trucks For Hire | Forklifts For Hire | Cranes For Hire | Generators For Hire | Transportable Buildings For Hire