Used Truck of the Month: 1990 Mack Valueliner
---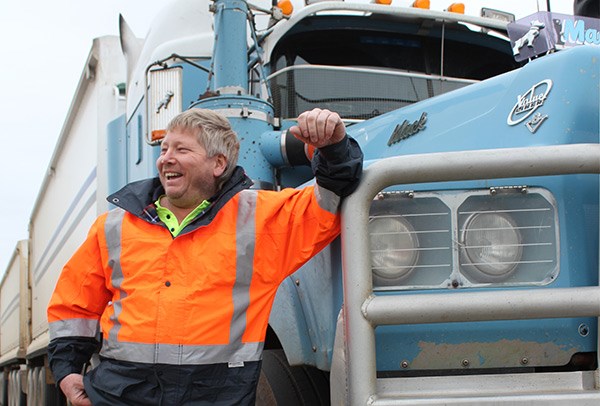 Brian Shiner is happy with his trusty steed.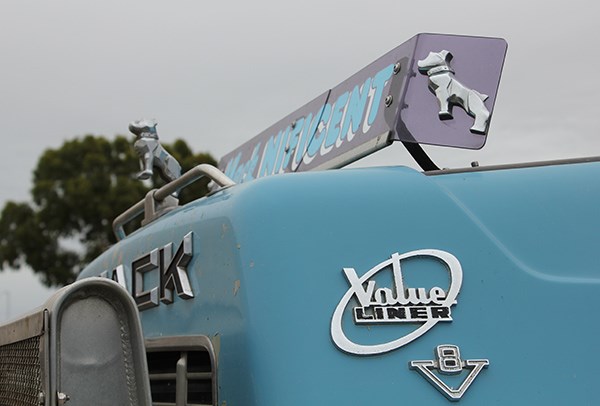 The truck's name is 'Macknificent'.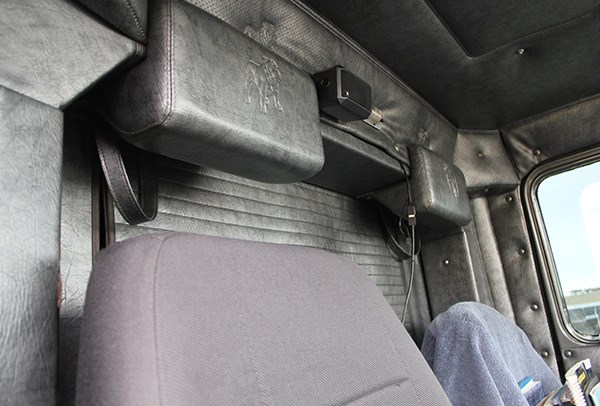 The leather flap keeps the dust out of the sleeper.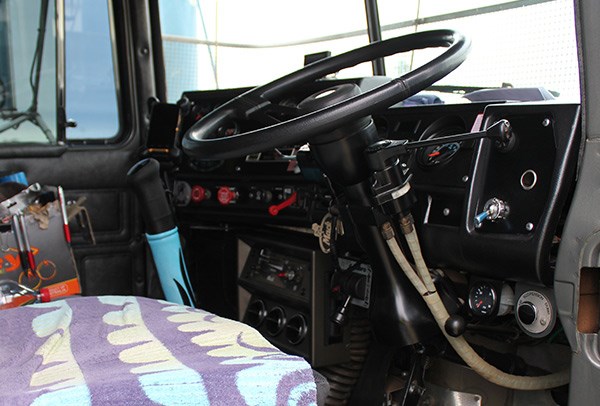 Comfortable ride in the cab.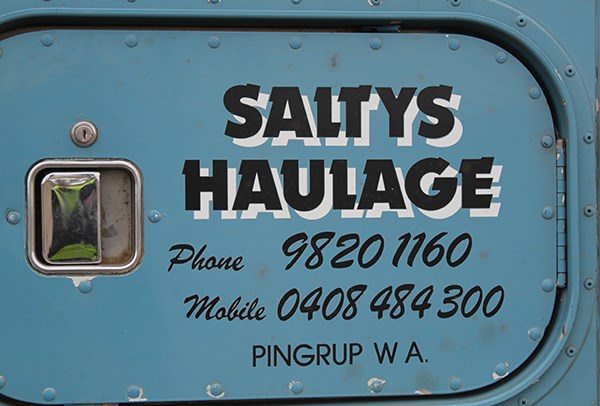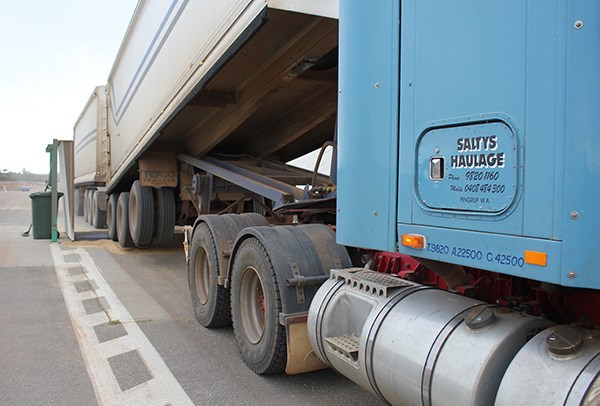 Brian Shiner's Mack working at the Lake Grace grain storage.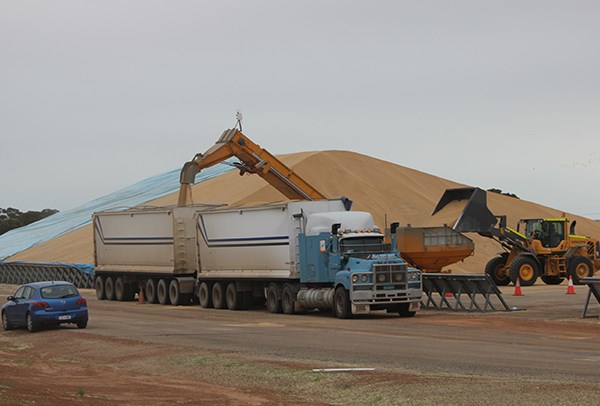 Rural Western Australian operator Brian Shiner loves his 1990 V8 Mack Valueliner, which goes better than it looks. Steve Skinner writes
This old Mack might not look real flash, but its owner gives it plenty of TLC and says it goes like a train.
Brian Shiner has been wanting to send his 1990 workhorse to a paint shop for a decade, but like a lot of owner-drivers he says he hasn't had both the necessary time and money at once.
But he'll get around to it one day and in the meantime there's nothing wrong with what counts, which is underneath the skin.
And the V8's note is awesome.
The old girl has done just over 2.5 million kilometres, with a reconditioning job at 1.4 million kilometres, despite no major problems "so it's nearly due to be done again," Brian says.
He bought the Brisbane-built Valueliner — which is the successor to the R model — in 1996 from a bloke down Esperance way for $115,000 when it had already done 860,000km.
"It's been brilliant," Brian says.
"I've never had any trouble with it really."
Brian does all the servicing himself, but he doesn't have much choice anyway, because the population of his home hamlet of Pingrup is only about 60.
Pingrup is about 50km south of Lake Grace on the way to Albany, in the mighty wheat-sheep belt several hours east of Perth.
Brian's bread and butter is local grain cartage as well as grain and wool to Perth, and hauling fertiliser out of Perth.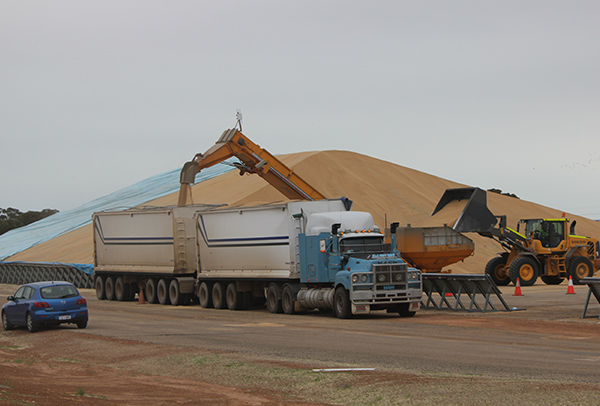 Bush cartage
TradeTrucks caught up with Brian while being shown around town by Lake Grace operator David Fyfe, as Brian was doing an internal transfer at the big Lake Grace grain storage where he didn't get the Mack out of second gear.
By now he will have been doing harvest work 800km away at Geraldton — but not living in the truck.
Mind you, he says the 48-inch (122cm) walk-in the 'high rise' bunk is comfortable with plenty of room, plus he can stand up in it.
He says the truck is also very comfortable to drive, and no wonder with its long springs and 6.2m wheelbase.
"It rides like a dream," he says.
Brian says the Mack is remarkably good on fuel for a 16.4-litre V8 which tares at more than 11 tonnes fuelled up.
He says he averages 1.6km to the litre, and that's usually pulling two tippers grossing up to 83 tonnes. (Its legal maximum GCM is 118 tonnes.)
"That's brilliant, it's one of the reasons I've kept it," he says.
Being pre-1996 there is no emissions equipment on this old truck, which doesn't matter in the back-blocks of the bush.
The transmission is a Mack 18-speed, which has the same pattern as a Road Ranger, but the splitter is on the left-hand side of the stick, requiring use of the third finger rather than the thumb.
Brian says the Mack box is clunkier to use than a Road Ranger, but he likes the ratios better.
For example he can reverse much more slowly and therefore with greater control.
That's handy when you've got two full-length trailers, and sometimes an A-trailer in front of them.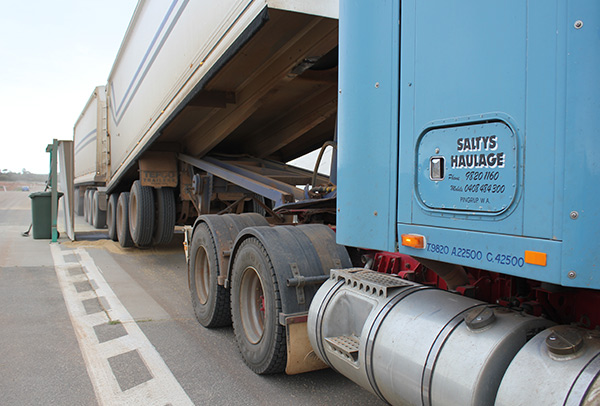 Bush pedigree
Brian, 48, has been in trucks all his life, following in the footsteps of his father Paul who was a small Pingrup trucking operator before going farming when Brian was a teenager.
"I thought he sold me out," Brian says.
"I already knew I wanted to be a truck driver."
He remembers driving Paul's R700 Mack — with its GM 871 engine and quad box — on back stretches of gravel when he was about 12 or 13.
"People don't do that now but I still reckon it's the best way to learn. As long as you don't do more than about 40 or 50km not too much can go wrong."
Brian went on to own his own R 600 Mack. His company is called Salty's Haulage because he and Paul used to bag and cart salt for stock-lick from the many nearby dry lakes.
He shares his father's old yard with younger brother Ian Shiner, and they often work in together, with five trucks between them. On the day TradeTrucks visited Lake Grace, Ian was also doing the silo work, in his old CHR Mack.
Brian says the brothers have had the occasional barney "but once the dust settles we don't hold grudges for too long.
"We have different ideas but mine aren't wrong and his aren't wrong."
Specifications
Name: Brian Shiner
Company: Salty's Haulage
Truck: 1990 Mack Valueliner
Engine: 16.4-litre V8 Mack E9
Outputs: 500hp (373kW); 1,660ft-lb (2,251Nm) @ 1,350rpm
Transmission: 18-speed Mack
Kilometres: 2.5 million
Subscribe to our newsletter
Sign up to receive the Trade Trucks e-newsletter, digital magazine and other offers we choose to share with you straight to your inbox
You can also follow our updates by liking us on Facebook. 

Trucks For Hire | Forklifts For Hire | Cranes For Hire | Generators For Hire | Transportable Buildings For Hire