Used Truck of the Month: 2005 Mack Titan
---
Todd Malycha long had a yearning to drive Macks, and he's a happy customer now behind the wheel of a Corbet's Timber Haulage 2005 Titan. Peter and Di Schlenk report
In 2014, Cyclone Marcia carved its way through the Queensland coast, flattening acres of pine plantation around Byfield, an hour or so north of Rockhampton.
Today, around 40 trucks run 24 hours a day, five days a week, to salvage the pine before it rots.
Andrew Corbet has nine trucks hauling pine, one of which is a 2005 Mack Titan with an enthusiastic Todd Malycha behind the wheel.
The Titan has recently been rebuilt and refurbished in Corbet's own workshops.
"They just don't make trucks like this," Todd says.
"The 600hp Cummins in this Titan is just awesome."
Corbet's Timber Haulage trucks work double shifts, keeping them running around the clock from Monday to Friday, so Todd shares his Titan with another driver, Barry Merchant.
The pine is hauled to Gladstone port where the majority is chipped for export, though the trip suffers two 'log jams' on school days, with the roads around Byfield School a no-go from 6-9am and again from 2-4.30pm.
"We've got two years of work here hauling out millions of tonnes of timber. Each shift you do a trip and a half, so you don't get bored. It's a pretty good job!" Todd says.
The fold-up B-double Kennedy trailers were built in 2002 and have since been refurbished.
Although Todd is no stranger to hauling logs, he admits operating the Elphinstone fold-up B-double takes some getting used to.
"I always think I'm going to do some damage but no — they're great; well designed and easy to operate," he says.
Todd started in the forestry industry in Mt Gambier, South Australia and has spent 20 years on the road, hauling logs and running interstate.
"I loved trucks as a kid and there plenty around Mt Gambier," he recalls.
"I started driving when I turned 16, but got caught drink driving.
"When I got my truck licence at 25, it settled me down because believe it or not I was happy driving."
At first he drove for Daryl Smith Haulage, plus the black and gold trucks of Mt Gambier Tyre & Brake Centre.
"That was an adventure, I'll say that much!" he exclaims.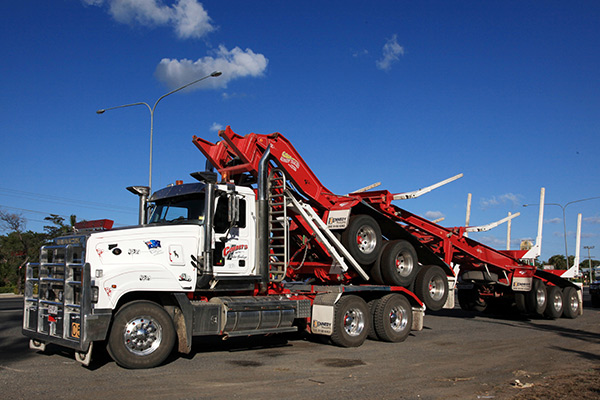 Mack meeting
He's driven mainly Kenworths and Volvos over the years, with just the occasional Mack, including a Super-Liner out of Mount Gambier.
"I was in a pub and spotted a bloke with a Mack cap on," Todd recalls.
"I'd seen a Mack Super-Liner around town and he told me it was his truck. I ended up working for him. He was a crook, but you get that."
Todd left Mt Gambier and moved to South Australia's Riverland district before relocating to Queensland, which is where he's been for the past couple of years.
His career has included road trains, hauling triples to Darwin for ABC Transport, and over to Perth for HPS Transport.
"The only thing I refused to do is livestock," he says, which brings him to another of his pet hates – cows on the road.
"I hit one a couple of years back in Malanda and wrote my 4WD off.
"I took them to court and the judge said that according to a 1947 law, cows have the right of way in Queensland."
He hasn't ventured into the world of fuel tankers or wide loads either, and his job before getting back on the timber was driving tippers for the Martin Group.
"It was a good change," he says, "but the chance to get behind the wheel of the Titan was too good to refuse."
It's the V8 Titan that maintains Todd's level of driving enjoyment, he admits, adding: "If you don't enjoy what you're doing it's just a job, but I look forward to going to work with a great company driving great gear."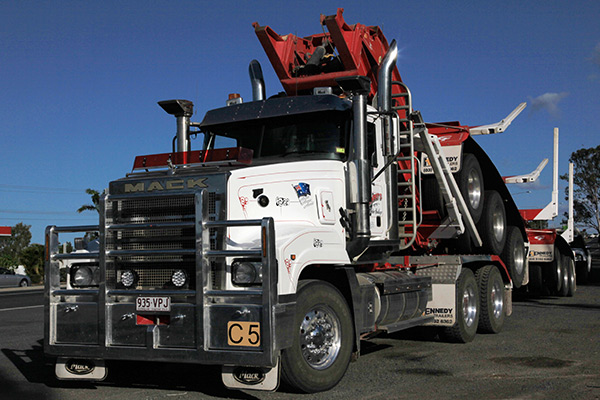 Looking good
While Queensland is infamous for its sub-standard roads, Todd believes it's simply a matter of driving to the conditions.
"The road into the plantation is pretty narrow, so you've got to drive accordingly," he explains.
"The roads are a bit ordinary but you have got all your call points.
"If you've got another bloke coming out, you back it off and give way to the loaded truck then away you go.
"I like coming through loaded because you can just lug the old girl.
"She blows a bit of coal but plods along."
And there's another reason to drive carefully; Todd doesn't want to spoil the Mack's appearance.
"The rig looks great — a little bit of scroll work and a few stickers, and it looks a million bucks," he says.
"Why drive a new truck when you can drive one as good as this?"
In Brief
Driver's name: Todd Malycha
Company: Corbet's Transport
Truck: 2005 Mack Titan
Engine: 600hp Cummins
Transmission: 18-speed
Freight carried: Logs
Regular run: Byfield to Gladstone, Qld
Subscribe to our newsletter
Sign up to receive the Trade Trucks e-newsletter, digital magazine and other offers we choose to share with you straight to your inbox
You can also follow our updates by liking us on Facebook. 

Trucks For Hire | Forklifts For Hire | Cranes For Hire | Generators For Hire | Transportable Buildings For Hire