Used Truck of the Month: 2004 Kenworth K104
---
Gregg Riley has worked the mines, drove long haul, but he's currently enjoying life as an owner-driver doing local runs around Perth in his 2004 Kenworth K104. Peter and Di Schlenk write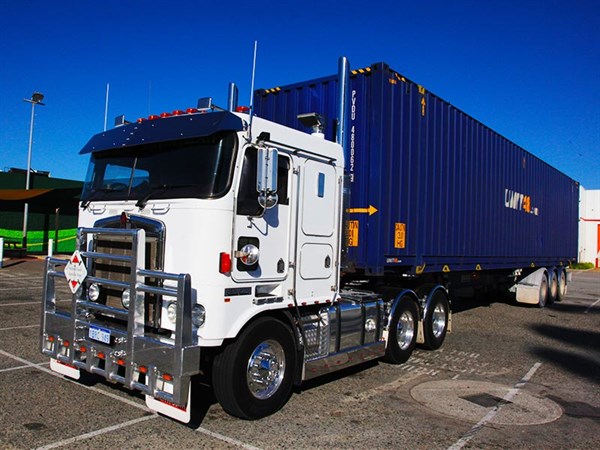 Perth local Gregg Riley isn't new to the transport industry, only joining the owner-driver ranks around 12 months ago.
Gregg says the price of his Kenworth K104 truck and the guaranteed work that came with it was the inspiration behind the change.
"I've done north-west and east-west among other things. I'd been doing this rail stuff for two years for a mate of mine when the truck and work presented itself, so away I went," he explains.
Gregg subbies to Daynite Towing, and runs containers to clients around Perth. It's all express rail and quick hitch as the containers are on trailers ready to go.
He just snaps on the trailer and heads for customers' depots, drops off a full one and exits with an empty one. It's easy as.
While Gregg spends some time waiting for trains, he doesn't have to worry about waiting for forklifts and finding containers.
"You take the train waiting in your stride," he says. "When everything is running to plan and I don't encounter any holds up, it's just in and out."
When we caught up with Gregg he was taking a break at the Shell/Coles Express truck stop in Kewdale.
Although an industrial area, it was fairly quiet day, although Gregg explains it was a far different scenario the previous week.
"There had been a major derailment and interstate trucks and container trailers were everywhere.
"I think just about anybody with a container trailer was here," he grins. "It certainly seemed that way.
"Of course that affects us but there isn't much you can do about a derailment."
Like many people in the industry, Gregg had a fascination with trucks as a kid and completed an apprenticeship as a diesel mechanic.
"I was working on trucks and then went mining for 14 years. I was working on Haulpaks, all the big gear.
"The mines were good. I wasn't driving them around and around in circles, I was fixing them.
Following the mines, he drove long-haul to WA's northwest for seven years, before giving it away to run local.
"It was a good job, and the country up there is beautiful with many wide open spaces," he says.
"I didn't do two-up so when you left Perth you were your own boss for the following three or four days."
Although he says he's now driving around in circles doing local runs, he doesn't mind it at all.
"We all work odd hours, and there's a lot of night work. But the roads are quiet and you just get in and get the job done."
To make it easier, Gregg says Perth's network of roads is one of the best compared to other capital cities.
"The roads are continuously getting better and more user-friendly, that's for sure.
"All the road work around here that's been done in the last 18 months is absolutely brilliant. It makes our lives a lot easier."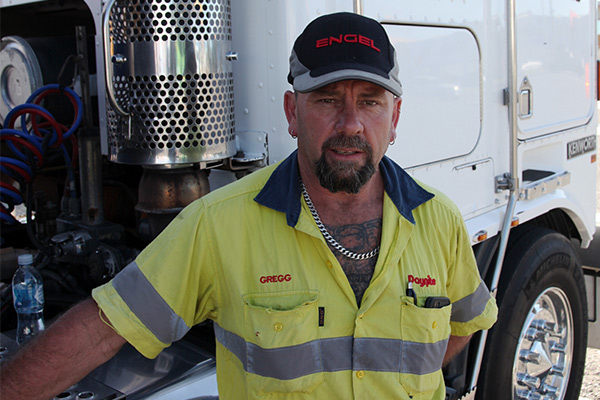 Gregg Riley takes a break at the Kewdale Coles Express truck stop.
2004 Kenworth
Gregg's K104 is a 2004 model with a C15 Cat under the floor, 18 speed gear box and has Kenworth's 460 rear suspension.
"I'm a Cat man … definitely. It does the job really easily, rides well with the airbags, even when I'm am bobtail," he enthuses.
Gregg knew the K104's history before he bought it, making the decision a little easier.
"I used to work for the company that owned it from new, Marsue Transport. I have its full service history. "I actually drove it when it was near new," he adds.
Gregg has no desire to go back onto the long distance. He's more than happy to sleep in his own bed each night, and have weekends off.
"I've done long runs already and love what I am doing now, even though it's been a quiet year."
Gregg refers to the downturn in the mining industry which has had major ramifications throughout the state.
"Everyone has been affected from everyone's spending habits. They don't buy anything that is not essential so that in turn equates to less freight.
"But I'm happy just to plod along with my 'old girl'."
Gregg admits to spending a significant amount on doing up his 12 year old truck, and putting it a lot of hard work to have it in its current presentable state.
"I haven't washed or polished it for a while but I try and keep it tidy," he continues.
"That's the joy of being an owner-driver with a trade behind me. I can take care of everything and keep the costs right down, and legally too."
Despite its age, Gregg has no plans to upgrade the K104 in the near future.
"I'll just keep looking after it," he says.
"I've been a company driver and worked for some top companies, but this will do me."
In Brief
Name: Gregg Riley
Company: Daynite Towing
Truck: 2004 Kenworth K104
Engine: Cat C15 550hp
Transmission: 18-speed
Freight carried: Containers
Regular run: Perth metro
Subscribe to our newsletter
Sign up to receive the Trade Trucks e-newsletter, digital magazine and other offers we choose to share with you straight to your inbox
You can also follow our updates by liking us on Facebook. 

Trucks For Hire | Forklifts For Hire | Cranes For Hire | Generators For Hire | Transportable Buildings For Hire