American Pick-up Showdown: GMC Denali
---
The GMC Denali may be the King of Bling, but the Ayatollah Of Rock and Roll-a Matt Wood puts it to work both on and off-road to see if it's more than just a shiny face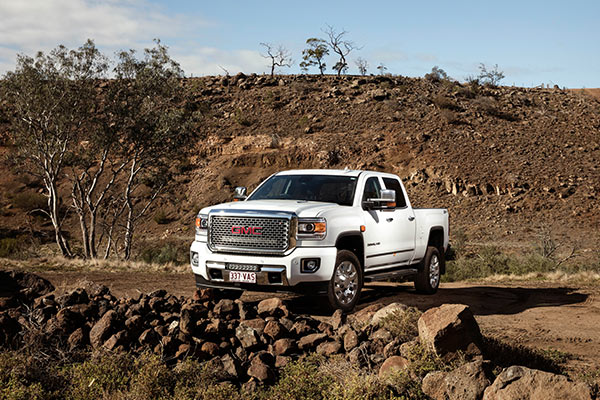 An icy feeling slowly radiated through my body like advancing dread, my hands slowly grew hot and sweaty on the steering wheel as I squirmed in the driver's seat.
I was worried, was I having some sort of allergic reaction to leather upholstery? Maybe that curry I'd had the previous evening was a bit past its use-by-date. I wasn't sure what was going on.
And then it dawned on me, while I'd been fiddling with all the switches and buttons in this vehicle and I'd inadvertently switched on the seat cooler, at the same time I'd also switched on the steering wheel heater. The result was disconcerting to say the least.
If you've ever been on one of those camping trips where your arse ends up parked in an esky you'll have some idea of what I'm talking about.
This truck was the GMC Denali 2500.
GMC is the premium GM truck brand that sits higher in the GM food chain than the Chevrolet Silverado.
The Denali sports a 6.6-litre Duramax V8 diesel that provides 402hp and 1,037Nm of torque, behind that sits a 6-speed Allison automatic.
It will take a tonne in the tub and tow up to 6.5 tonne. Plus it's a dual range 4x4.
This truck came from QLD based Performax International who specialise in RHD conversions on a range of American vehicles.
Interior
I have to come clean and say that from the start I wasn't nuts about the GMC's styling.
The wheel arches looked as if they needed square wheels to fill them and the front is just a little too garish Cadillac for my tastes.
The leather interior, however, is plush; it feels like a quality luxo bus inside. As mentioned earlier there's heated and cooled everything and a neat digi-dash that provides vital statistics such as coolant temperature and oil pressure.
The display also changes when you select tow mode to display transmission temperature as well.
A touch-screen infotainment system dominates the centre console, though the Sat nav kept playing up. It refused to shut up no matter how much we tried to reprogram the nav.
We ended up just removing the sim card for some peace.
Having the pedals sitting in what used to be the passenger footwell does make it a little cramped for the left leg on a long drive and I found myself moving my left foot around almost subconsciously to get comfortable.
The Denali also gets a safety pack that includes forward collision warning and radar cruise control.
Elsewhere inside there is storage everywhere, and the seat bases flip up out of the way to create a flat floor space, which is no doubt handy if you've got luggage you want to keep out of the weather.
As you'd expect the back seat is plush, comfortable, and spacious. Three adults could lounge in the back comfortably.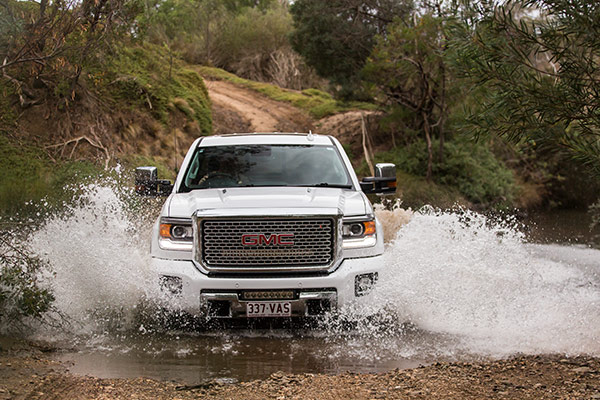 Drive time
As much as I disliked the Denali's styling, I had to admit that it was a lovely thing to drive.
The independent front-end gave the GMC excellent road holding, whether loaded or empty.
The V8 had a suitably macho growl when booted but at the same time was happy to idle along smoothly in traffic when required.
The auto in comparison seemed a little harsh at times when shifting – it was much happier when actually towing a load.
When it came to off-roading however, we had to bear in mind that these trucks are a little too wide for most bush tracks.
Plus we didn't want to scratch or dent some very expensive vehicles. But we did tackle a particularly gnarly hill climb as well as some mild obstacles.
Shift on the fly 4x4 is standard.
Again, the Denali surprised, though it's worth mentioning that the GMC was fitted with aftermarket shock absorbers which no doubt helped in the wheel articulation stakes.
The Denali is also fitted with an auto locker on the rear diff, which also gave it a helping hand as it jumped, roared, and bounced up the hillside.
The chassis of the GMC felt very supple both on and off-road, and I never thought I'd ever use those words to describe the handling characteristics of a pick up truck!
We then had to actually tow something. So we stuck a relatively modest 3,000kg behind all of these trucks to see how they hauled. Given the 3,500kg benchmark set by the local ute market that's still a pretty good load.
In short, the Denali towed beautifully and barely noticed the weight. The Allison tranny settled into a smooth shifter under load, and in tow mode provided intuitive shifts.
Our tow test route was up and down the Brisbane Range in Victoria and on descent the engine brake worked extremely well with the gearbox, downshifting early and holding high rpm to maximise exhaust-braking effect.
The Performax conversion does feel like a quality job, sat nav niggles aside. But without pulling things apart it can be hard to judge from the driver's seat.
Aside from footwell room the only other jarring note is that the steering column is slightly off-centre with the seating position.
Final details
The Denali itself is a smooth cosseting hauler that would eat up the miles with ease loaded or unloaded.
Of course none of this comes cheap, especially when tied to the vagaries of the American dollar. Our GMC had a list price of $152,500.
This truck was also fitted with an optional long range fuel tank.
Performax vehicles also come with a 4-year, 120,000km warranty and 24 hour road side assistance.
Subscribe to our newsletter
Sign up to receive the Trade Trucks e-newsletter, digital magazine and other offers we choose to share with you straight to your inbox
You can also follow our updates by liking us on Facebook. 

Trucks For Hire | Forklifts For Hire | Cranes For Hire | Generators For Hire | Transportable Buildings For Hire