Hino Hits Back
---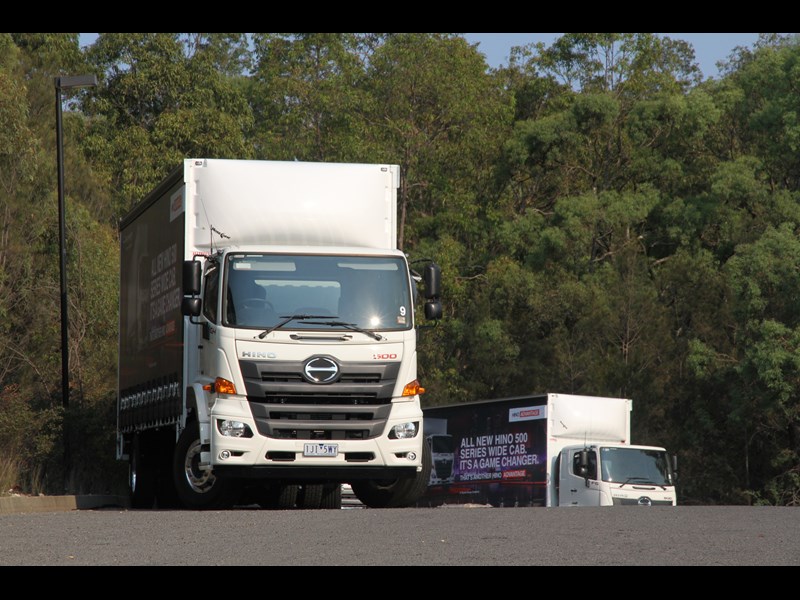 As far as Hino's concerned, its new 500-series wide cab range is a game-changer.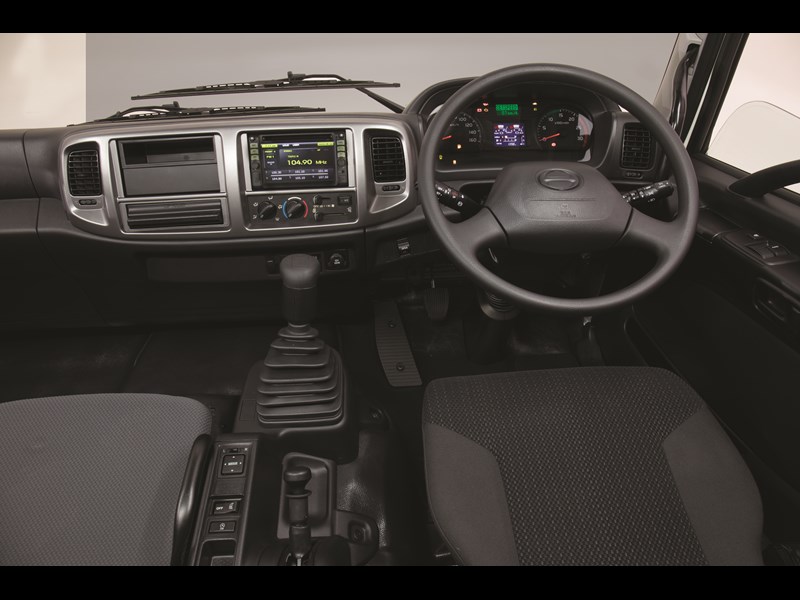 On the inside. It's still a neat, practical layout but apart from a new radio and dash layout, little has changed. Underneath it's a different story altogether.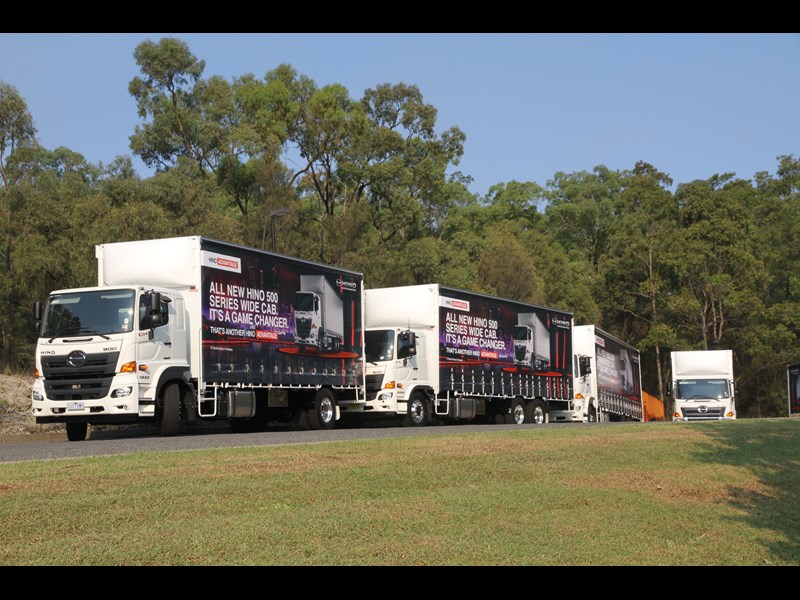 The 500-series wide cab model range has been expanded and gives Hino more firepower to challenge market leader Isuzu.

Hino has taken the wraps of its new 500 series wide-cab models and revealed a truck with loads more muscle and a suite of safety initiatives.
They've been a long time coming and executives at Hino Motor Sales Australia make no secret of the company's competitive need for trucks of this calibre, but finally, the covers have come off a vastly rejuvenated range of Hino 500-series wide cab models.
Despite the somewhat confusing wording which can infer these trucks have a new, wider cab, the cab actually retains the same generous dimensions of the first 500-series wide cab models launched a decade ago.
There is, however, no confusion in the release of a model range with a swathe of new and highly functional features which include enhanced eight and nine litre engines, expanded manual and automatic transmission options, numerous drivetrain developments, and safety advances headed by the standard fitment of a Wabco vehicle stability control (VSC) system in all models.
The standard inclusion of VSC across the new range is "an Australian-first for this class," says Hino product strategy manager, Daniel Petrovski.
Yet with a standard safety list also containing ABS anti-lock, ASR skid control, a driver's side airbag, reversing camera, an 'Easy Start' hill-hold function for manual models, and a cab meeting European crash test standards, Hino boasts it has the most comprehensive active safety package of any Japanese truck in the medium-duty category.
Available in two and three-axle configurations, the new trucks offer gross vehicle mass (GVM) ranging from 16 to 18 and 26 tonnes, and gross combination mass (GCM) ratings from 32 to 45 tonnes.
For Hino Motor Sales Australia chairman and chief executive officer Steve Lotter, the latest 500-series wide cab models are an overdue and hugely welcome addition to a brand which has struggled to maintain medium-duty sales momentum and stay relatively close to market leader Isuzu over recent years.
In fact, the importance of the new models to Hino's Australian operation and the significance placed on their success by Japan was highlighted by the presence of one of Hino's most high-ranking executives, Kenji Nagakubo, at the recent launch of the trucks. Nowadays the managing officer of Hino Motors Ltd, Kenji-san was previously the head engineer on the new 500-series project and left no doubt that he will take a major interest in its performance on the Australian market.
"These trucks are a game-changer for us," Steve Lotter commented, "and we now offer the broadest range of trucks in these important market segments that straddle Australia's competitive medium and heavy-duty markets.
"By increasing the model range, it provides us with an opportunity to engage in different applications which previously hasn't been possible."
The new trucks are easily distinguished from the previous wide cab models and likewise, from the FC, FD and FE medium-duty specialists sporting Hino's narrower 'standard cab'.
The most notable external change is in a bold, dark grille but there are also relatively subtle changes in areas such as cab steps. On the inside, the changes are less apparent with a new radio and redesigned digital dash being the most obvious.
However, it's underneath where the greatest changes have been made, led by further development of Hino's 7.7 litre J08E engine and its 8.9 litre stablemate, the A09C.
In the case of the six cylinder J08E, maximum governed engine speed and compression ratio have been raised to deliver peak outputs of 206 kW (280 hp) at 2500 rpm and top torque of 883 Nm (651 lb ft) at 1500 rpm. Depending on the model, transmission choices are an Allison six-speed auto, Hino six-speed manual or an Eaton nine-speed direct-drive manual.
As for the A09C, also a six cylinder layout, Hino says there's a new turbocharger, revised water pump and cooling fan, and a swap from Bosch to Denso common-rail fuel injection.
This engine offers two performance ratings starting with a 235 kW (320 hp) and 1275 Nm (940 lb ft) setting coupled to an Allison automatic transmission, and a lively 257 kW (350 hp) unit supported by a potent 1422 Nm (1049 lb ft) of torque stirring through a Hino nine-speed overdrive synchromesh transmission.
Critically, says Hino, both engines greatly benefit from the adoption of an SCR emissions system instead of the previous EGR and diesel particulate filter combination to achieve Euro 5 emissions compliance.
Several of the models provided for drives during the launch of the new trucks were equipped with the Hino nine-speed synchromesh manual shifter. Operating on a double-H (H-over-H) shift pattern, the Hino box wisely comes with an electronic control unit which won't allow shifts into low range if road speed is above 30 km/h, and a beeper which sounds when the range change button is used. As a Hino operative explained, it's all about protecting the engine from over-speeding in the event of an accidental downshift through the synchro box.
Like their light-duty Dutro counterparts, manual versions of the new 500-series trucks are also equipped with an engine stop/start system to enhance fuel efficiency by switching the engine off when it would be otherwise idling. The stop/start system is only activated when the dash-mounted control switch is 'on', the truck stationary, the transmission in neutral and the park brake engaged. Likewise, the engine automatically restarts when the clutch pedal is depressed.
Meantime, GH and FM models are now also equipped with cross diff locks as standard equipment.
Importantly, the new models also have a wider front axle with a tighter wheel cut angle while at the back end, electronically controlled air suspension (ECAS) is available on models with Hendrickson's HAS airbag rear suspension.
We'll have a full drive report on the new models in upcoming issues of ATN and Owner//Driver magazines but in the interim, here's a quick run-down on Hino's new 500-series wide cab range:
FG 1628 4x2 – 280 hp. Six-speed manual or six-speed Allison auto.
    GVM 16 tonnes. GCM 32 tonnes.
FL 2628 6x2 – 280 hp. Six-speed Allison auto.
                       GVM 26 tonnes. GCM 38 tonnes.          
FM 2628 6x4 – 280 hp. Eaton nine-speed manual or six-speed Allison auto.
                       GVM 26 tonnes. GCM 33 tonnes (auto) 38 tonnes (manual).
FM 2632 6x4 – 320 hp. Six-speed Allison auto.
                       GVM 26 tonnes. GCM 36.5 tonnes.
FM 2635 6x4 – 350 hp. Hino nine-speed manual.
                       GVM 26 tonnes. GCM 45 tonnes.
GH 1828 4x2 – 280 hp. Eaton nine-speed manual or six-speed Allison auto.
                       GVM 16 tonnes (std) 18 tonnes (opt). GCM 38 tonnes.
GH 1832 4x2 – 320 hp. Six-speed Allison auto.
                        GVM 16 tonnes (std) 18 tonnes (opt). GCM 38 tonnes.
GH 1835 4x2 – 350 hp. Hino nine-speed manual.
                        GVM 16 tonnes (std) 18 tonnes (opt). GCM 38 tonnes.
Subscribe to our newsletter
Sign up to receive the Trade Trucks e-newsletter, digital magazine and other offers we choose to share with you straight to your inbox
You can also follow our updates by liking us on Facebook. 

Trucks For Hire | Forklifts For Hire | Cranes For Hire | Generators For Hire | Transportable Buildings For Hire