Hino's shifting focus
---
Hino's long wheelbase addition to its long-serving 700-series heavy-duty range certainly packs plenty of punch for a truck essentially designed for three-axle rigid work. It also packs enough extras to soften the view – at least for now – that time is starting to catch up with this stalwart of the Hino stable. Best of all, however, is the way ZF's Traxon transmission adds new vim and vigour to a true toiler, uphill and down.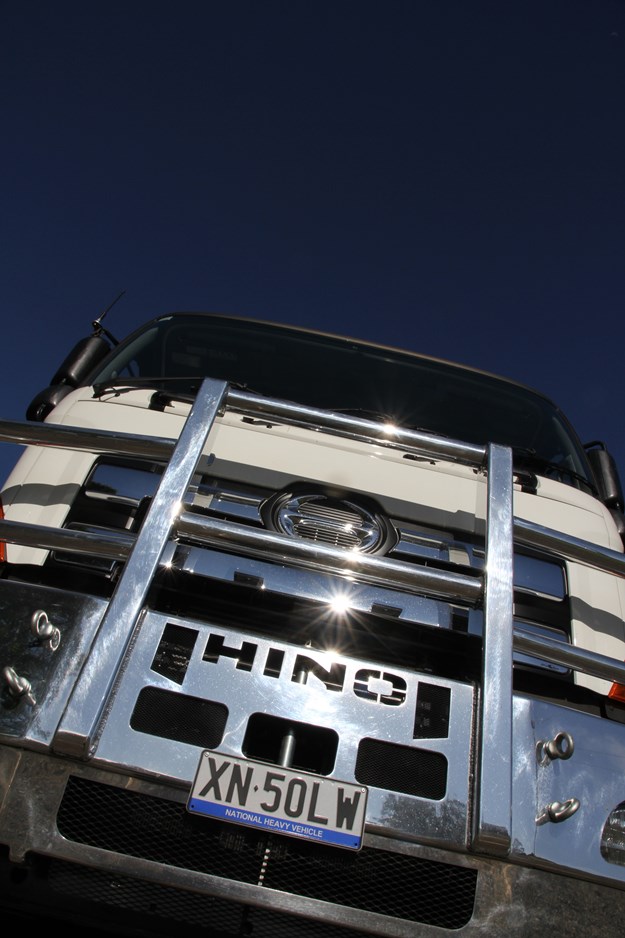 Even before the truck turned a wheel, there was not an ounce of doubt that Hino's long wheelbase 2848 six-wheeler rigid would make light work of just about anything thrown at it.
And to be blunt, we threw plenty, but we'll get to that shortly.
The simple basics are that the FS 2848 is a new addition to Hino's 700-series heavy-duty line-up, based on a typical 'Swiss cheese' chassis stretched to a wheelbase just shy of 6.3 metres for body lengths up to almost 9.2 metres. 
So, why the extra-long chassis now? 
It's a reasonable question given that the 700-series has been around for 12 years or more and for the most part, has been largely configured for prime mover duties and shorter rigid work in, say, truck and dog trailer roles. There's also an eight-wheeler version of the 700-series but even its wheelbase is more than 300mm shorter than the latest new six-wheeler.
The answer lies in a piece of clever marketing and niche engineering principally targeting the rural sector and specifically, cattle carriers with concessional approval in some areas which allow full use of the model's 28.3 tonne gross vehicle mass (GVM) rating.
Yet while rural roles are the main reason for the longer model's creation, Hino has no intention of limiting the truck's appeal to farming folk alone. Not for a moment! As Hino Australia's manager of product strategy, Daniel Petrovski, states in a press release: "We have developed this truck at the specific request of our customers – it is suitable for any number of applications from general farm duties or cattle trucks to a 14-pallet rigid freight truck or a flat tray with a rear-mounted crane." 
In effect, anything requiring a long wheelbase, tandem-drive rigid truck with plenty of punch, a proven durability pedigree, and most impressively, a silky smooth and incredibly intuitive automated transmission equipped with a hugely effective in-built retarder. 
Again, we'll get to the details shortly but in the interim, don't go thinking Hino's stretched workhorse doesn't have at least some capacity for towing a trailer. For instance, a generous and somewhat optimistic gross combination mass (GCM) rating of 72 tonnes, the 16-speed version of ZF's latest Traxon automated shifter rather than its 12-speed counterpart, plus the retention of a rather over-sized trailer brake handpiece and associated air plumbing, all blatantly suggest a pig trailer full of cows, sheep or indeed pigs, is one of several possible trailer options. Or maybe a turf truck pulling an earthmoving machine. Whatever, you get the picture. 
But before we get off air plumbing, the site of a small air tank low-slung halfway down the driver's side chassis rail appears odd in the extreme. Surely there's a less susceptible position somewhere on such a long chassis.
Anyway, down to the nitty gritty. While the prospect of a 700-series model working at a GCM of 72 tonnes would be more than a tad ambitious, the same truck working as a long wheelbase, three-axle rigid flat-top is an entirely different and somewhat inviting proposition. 
Take our road test unit, for example. Befitting its rural aspirations, the 8.8 metre long tray body was stacked with large fodder bales to produce an all-up weight of 21 tonnes which, of course, wasn't particularly heavy work for a truck punched with an engine displacing almost 13 litres, pumping 480hp (353kW) and almost 1,600ft-lb (2,157Nm) of torque through the super-slick and incredibly intuitive ZF Traxon 16-speed automated shifter.
Consequently, given a truck so amply equipped for such a relatively light weight, it seemed only fair and reasonable to tackle a test route tough enough to produce at least some semblance of sweat for the Hino heavy. Besides, hard hills became almost mandatory after the enthusiasm of Hino insiders extolling the merits of the Traxon transmission, not least a retardation system sporting the truck's standard engine compression (Jake) brake working in concert with the ZF shifter's three-stage Intarder hydraulic retarder.
It didn't take long to think of a track which would ask plenty of the truck, uphill and down, despite its modest bulk. Starting from Hino headquarters at Taren Point on Sydney's southern rim and with almost 5,000km under its belt, the test unit was steered south down the long descent of Mt Ousley before reaching the outskirts of the regional centre of Nowra. From there, a right turn took the Hino up and over the steep, sharply twisting turns of the Cambewarra climb, along the undulating floor of Kangaroo Valley before the long, snaking assault of Barrengarry Mountain and eventually popping out atop the Southern Highlands. Then, through Bowral and Mittagong, and a relatively easy jaunt along the Hume Freeway before hitting suburban snarls and finally, back to Hino headquarters.
All up, almost 350km of hugely diverse and at times, highly demanding road work, even for a truck so well-endowed for such a modest weight. 
Old and New
With typical Japanese detail, the long wheelbase model's full title is 'FS 2848 AMT AIR 6267' which, simply explained, means it's a 480hp (358kW) forward-control truck with a GVM of 28 tonnes, using an automated manual transmission (AMT) and riding on an air-sprung Hendrickson HAS 460 rear suspension. And if you must know, 6267 is the exact wheelbase length in millimetres, measured from the centre of the steer axle to the mid-way point between the drive wheels.
Across the board, however, all Hino 700-series models have much in common, starting with a tall but increasingly bland and aging cab. Mounted on a four-point air suspension layout and with the driver sitting on a quality Isri air-suspended seat, there's no denying it's a sturdy, well-built and from behind the wheel, comfortable cab. Moreover, there are a number of worthwhile additions to the cab's standard appointments.
As Hino's Daniel Petrovski states in reference to the new long wheelbase version: "Adding to the truck's appeal is the all-new Hino smart multimedia system, which includes standard reversing camera, and an unprecedented level of vehicle connectivity and entertainment possibilities." 
The multi-media system uses an Android-based 6.5-inch multi-touch digital screen with enhanced radio, Wi-Fi and Bluetooth functions while other features include what Hino calls 'a curated' application store and optional truck-specific GPS navigation system.
In addition to the standard reverse camera, Hino's statement continues, other safety and comfort features on the FS 2848 are an anti-lock braking system (ABS), a driver's SRS airbag, mandatory front under-run protection system (FUPS) and electrically operated and heated rear view mirrors.
Yet even with these features, the overall design and interior layout lack the finesse and appeal of more modern Japanese designs, most notably UD's Quon and Fuso's Shogun.
Funny thing, Hino and Isuzu are the two biggest selling truck brands in Australia yet in the heavy end of the business with their current 700-series and Giga ranges respectively, both sit well adrift of UD and Fuso in terms of ergonomic style and overall appointments. 
Light duty modernisation
Word has it, however, that Hino has big plans in play. With its medium-duty 500-series range having already undergone a thorough and highly successful upgrade, the light-duty 300-series is probably next in line for a major modernisation program, with the possibility of an official launch later this year providing the world doesn't fall further into Covid-19 contraction.
After that, it's a fair bet there will be a dramatic revitalisation of the flagship 700-series family when many of the safety and operational enhancements delivered in the reborn 500-series are likely to be carried over to its bigger brother. Hino isn't giving any clues about when a rejuvenated heavy-duty line-up might make an appearance, but our guess is late next year or soon after.
Vitally, it remains to be seen if this generational update will include a significant performance boost to Hino's current 12.9-litre E13C six-cylinder engine, but it would certainly be surprising if bigger grunt wasn't part of a substantially upgraded package. After all, European competitors are now comfortably pulling substantially bigger performance peaks from similar displacements. DAF's latest MX-13 engine, for instance, now pulls up to 530hp (395kW) and more than 1,900ft-lb of torque from its 12.9-litre displacement while Volvo extracts 540hp (403kW) and a touch over 1,900ft-lb from its evergreen D13C engine. Not to be outdone, Mercedes-Benz and Scania boast similar outputs from similarly sized engines. 
Yet perhaps the biggest influence for Hino to jump to higher levels of power and torque will be the fact that no other Japanese heavy-duty brand currently offers a 13-litre displacement. Not Fuso, not UD and critically, not market leader Isuzu.
Sure, with its flagship GigaMax model, Isuzu is the only Japanese maker to currently offer a 500-something rating but it comes from a lumpy and largely outdated 15.7-litre engine limited to a relatively tame torque peak of 1,663ft-lb. In the modern world, engines of this displacement are dispensing at least 550 to 600hp (410 to 447kW) and a minimum 1,850ft-lb of torque. To offer less in this day and age is a distinct case of too much metal and not enough muscle. Or, simply inefficient.
It's no secret, however, that Isuzu is in close contact with Cummins for a high performance engine in the 12- to 13-litre class but so far, and much to Isuzu Australia's frustration, there's nothing on the horizon to suggest a tangible example from this relationship will appear anytime soon. (We are, however, now starting to hear reports – very quiet reports – that a prominent Brisbane fleet operator is heavily involved in development and trials of a heavy-duty Isuzu model powered by a Cummins ISG 12-litre engine. Stay tuned, but right now that remains another story for another day.)
As for Fuso and UD, there's no sign of their corporate master – Daimler and Volvo respectively – approving the use of 'family' engines in the 13-litre class for fear the Japanese brands would impact on sales of their European brethren.
All this points to a rare opportunity for Hino. After all, with no corporate commercial clash deriving from its place as an offshoot of global car giant Toyota, Hino appears to have the potential to not only take a significant performance leap over its Japanese competitors in the heavy-duty class, but also become more of a challenger to the Europeans than ever before. 
Right now, the door is wide open for Hino but only time will tell if a new range of heavies will go far enough to turn what appears to be obvious potential into commercial reality. One thing's for sure, it already has a great transmission to start the ball rolling. 
Across the range
In the meantime, the current 700-series crop will endure as it is, with the turbocharged, intercooled and overhead cam E13C common-rail engine continuing to comply with the Euro 5 emissions standard through a combination of exhaust gas recirculation (EGR) and selective catalytic reduction (SCR) (AdBlue) systems. 
Coupled to the engine in the majority of 700-series models, ZF's Traxon was added to the Hino range mid-way through last year, replacing the previous generation of AS-Tronic automated shifters. First in the stable to offer Traxon was the FY 3248 eight-wheeler which unfortunately, is also the only model in the heavy-duty range which does not offer Traxon's Intarder. Put simply, the reason there is no Intarder on FY is because the second steer axle is in the way of where Intarder hardware is located on the transmission. 
Next with Traxon was the new long wheelbase FS 2848 and gradually, the remainder of single-drive and tandem-drive models in the range. It's worth noting that of the seven models in the 700-series line-up, four offer both Traxon and an Eaton 18-speed manual option. However, the long wheelbase 2848 is Traxon-only. 
Hino certainly wasn't the first truck brand in the country to offer ZF's latest and unquestionably greatest transmission development, but Traxon nonetheless delivers a potent boost to overall performance and operational efficiency in the 700-series.
Whereas the AS-Tronic used, for example, a relatively standard clutch fork mechanism, Traxon employs a concentric slave cylinder for clutch actuation which, according to ZF, provides faster and significantly more seamless shifts.
The ratio spread is also slightly broader with a deeper first gear ratio of 14.682:1 and marginally taller overdrive top gear of 0.82:1.
Yet as slick and seamless as Traxon's shifts are – remembering that there was nothing slow or sloppy in the shift performance of the previous AS-Tronic – and the transmission's impressive intuition on steep climbs and sharp descents, it is the improved braking performance of the water-cooled (using the engine cooling system) Intarder hydraulic retarder which best demonstrates the new shifter's gains. 
According to ZF, Intarder performance has jumped from a highly respectable 3,200Nm of peak braking effect in AS-Tronic to a fierce 4,000Nm in Traxon.
But it's when the braking power of Hino's standard engine compression brake is added to the three stages of Intarder that retardation effort hits a stunningly high level. At the first click of the four-stage wand on the steering column, Hino's engine brake delivers a reasonable 184kW of braking power. The next click adds the first stage of Intarder, taking combined braking power to 349kW. The next stage adds 330kW to take overall braking power to a lusty 514kW while the final click on the wand pulls 500kW from Intarder to push total braking effect to a remarkable 684kW.
Furthermore, there are two ways to use the retardation system. One, obviously enough, is the wand on the steering column and two is to engage a dash-mounted switch that allows the various levels of retardation to be delivered by pressure on the footbrake. The more pressure, the higher the level of retardation until, of course, there's enough pressure to bring the service brakes on.
It's not difficult to come to grips with the foot-operated system and older folk may recall that Scania once used a similar system to engage its sadly ineffective exhaust brake in earlier generations. There is, however, nothing ineffective about Intarder. In fact, so effective was the combined effort of engine brake and Intarder in the relatively light test truck, it was easy to apply a tad too much pressure on the brake pedal which in auto mode occasionally caused an unwanted and unwarranted downshift. 
Personally, the wand was a far simpler and smoother way to tailor such powerful and responsive retardation effort.
Yet no matter how it's applied, this level of retardation in a six-wheeler truck grossing 21 tonnes is phenomenally effective. Mt Ousley, for example, where the 40km/h descent speed for trucks was met with almost ridiculous ease. Indeed, starting the run down with the shifter in 10th gear and second stage on the retarder wand quickly proved to be too much effort. A happy medium was soon found with the first stage of the retarder and 11th gear, plus an occasional shift up to 12th when the grade eased slightly, comfortably keeping the truck slightly under the 40km/h limit. Easy!
Cruising contentedly down to Nowra, the next big test was the Cambewarra climb and again, the long wheelbase meant Hino made easy work of what is normally a formidable route for any truck. In fact, the transmission's ability to basically 'read' the hill and make full use of the engine's torque reserves was no less evident and impressive than the control and safety demonstrated by the retardation system on the steeply twisting descent into Kangaroo Valley.
Likewise on the testing Barrengarry assault where the handling and vision of the Hino were pronounced and almost as impressive as the transmission's ability in full auto mode to again make maximum use of the engine's torque reserves. What's more, when shifts were needed, they came sweet and smooth with almost no discernible delay, while on those very few occasions when a shift to manual mode seemed appropriate, it was only to hold the transmission in a particular gear rather than actually make a shift up or down.
Over the last of the long climbs and with 200km of diverse and regularly demanding work under its belt by the time the truck hauled into Mittagong, Hino's 'unprecedented level of vehicle connectivity' was allowing boffins at HQ in Taren Point to see a fuel return of 2.6km/litre, or 7.3 mpg, for the trip to that point.
From then on with the truck notching 100km/h around 1,600rpm, it was an easy dawdle down the Hume Freeway back to Hino head office where, through relatively light traffic, the final 150km or so revealed a thrifty 3.38km/litre (9.55mpg).
According to Hino, the overall fuel figure for the trip was 2.88km/litre, or 8.1mpg, which to my mind seemed entirely acceptable given the size and output of the engine and demands of the route.
As a six-wheeler rigid, the long wheelbase Hino is a lot of truck and to some minds, it'll be way too much metal and muscle for jobs like metro distribution. 
To others, not least cow cockies looking to maximise axle allowances over a long wheelbase, yet with the capacity for a generous tray body and the performance and drivetrain to tow a trailer of sorts, the FS 2848 looks the goods. 
Just as Hino intended, no doubt.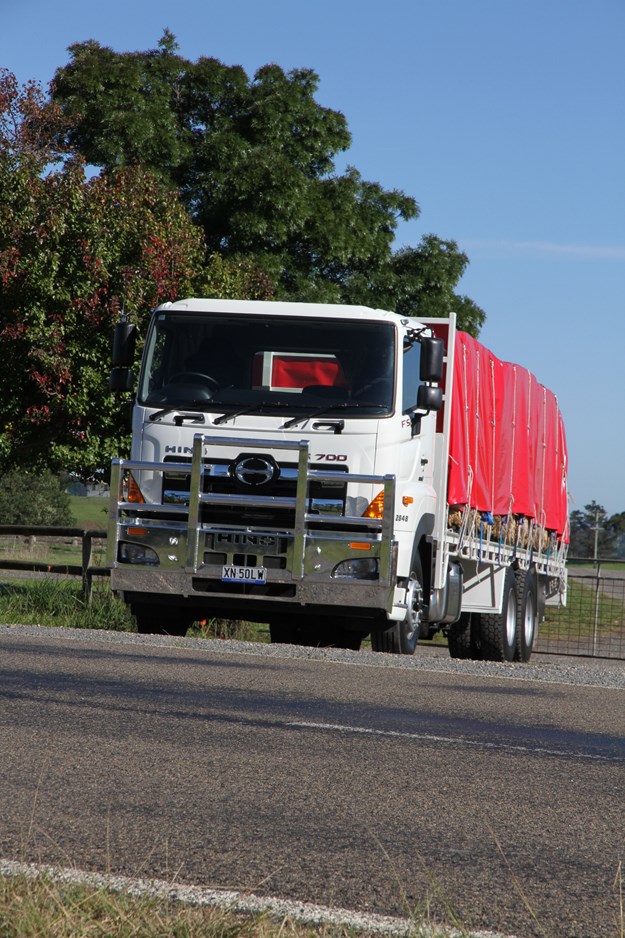 Subscribe to our newsletter
Sign up to receive the Trade Trucks e-newsletter, digital magazine and other offers we choose to share with you straight to your inbox
You can also follow our updates by liking us on Facebook. 

Trucks For Hire | Forklifts For Hire | Cranes For Hire | Generators For Hire | Transportable Buildings For Hire