Renault Master van video review
---
Matt Wood tests out the latest European challenger for the commercial vehicle crown, the Renault Master.
I'm going to provide you with a rather disturbing insight into my mind.
It's mostly full of chrome wheel nut covers, Texas dozer blade bars, alloy bling, 4.3m chrome pipes and other shiny things. Usually the only way to get my attention is by blowing something up, or with something pretty, shiny or loud.
The growl of a 15- or 16-litre diesel engine, accompanied by a turbocharged whine, is music to my ears. But hey, I never said I was deep.
Renault's place in the commercial vehicle market
As a consequence when it comes to light trucks it can be really difficult to supress a yawn. Invariably these vehicles are white, invariably they all look very similar, and they don't sound very good and invariably have really crappy sounding stereo systems.
But the light commercial vehicle (LCV) market is on the rise and over the past couple of years more manufacturers have appeared in an effort to capitalise on this rise in demand.
Renault has been the biggest selling LCV manufacturer in Europe for the past 15 years and it leapt into the Australian fray at the end of the last decade. The company released the front-wheel drive (FWD) large Master van in early 2012. 
However, it recently expanded the model range significantly with the addition of some larger capacity rear-wheel drive (RWD) models.
Among this range was the addition of some cab-chassis models, a seven-seater dual cab and a single cab that come in at 4.5 tonnes GVM; essentially a car-licence light truck.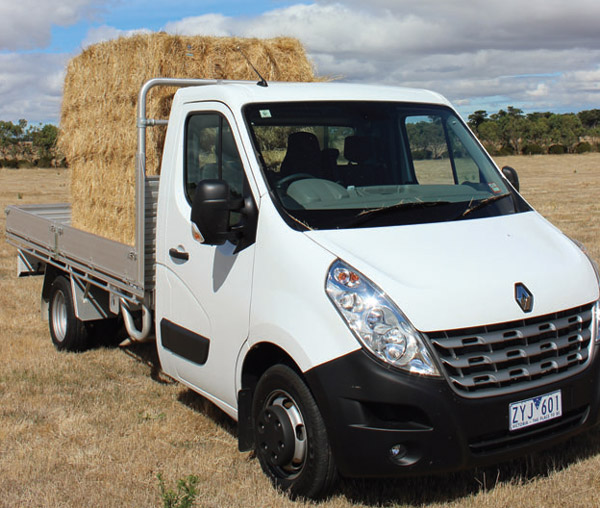 The Australian market is currently firmly wedded to Japanese product for these kinds of vehicles and to be fair reliability, price and dealer coverage have played a large part in this. After all, European van based cab-chassis trucks aren't really a new thing, but to a greater extent they've more been promoted as something to drag a motorhome or a posh horse float around with rather than a pallet dragging urban hauler, a substitute for a tradie's ute and trailer or even as a light agricultural option.
There's also been the notion European vehicles are that little bit too complicated and therefore expensive to run and own. To combat this perception Renault sells these little jiggers with a three-year/200,000km warranty along with three years of roadside assistance and three years or 90,000km of capped priced servicing.
On top of this the Master can stretch service intervals out to 30,000km depending on application.
Engine
This power plant, thanks to Renault's tie up with Nissan, is the same as you'll find under the bonnet of the Nissan X-Trail SUV. It provides the Master with 110kW of power and 350Nm of torque, which are pretty decent figures fora mill of this size.
However, this is where some of the established light truck brigade has an advantage. Many of the competing light trucks from the Japanese manufacturers use bigger displacement engines and develop significantly more torque, which does give them a performance advantage when running at close to weight capacity.
That doesn't necessarily count against the Master if you think of it more as a heavy ute than as a light truck. That is exactly what Renault wants us to do. Rather than using the traditional ute and trailer combination that is so evident these days, Renault wants us to consider ditching the trailer and opting for just the one vehicle for a similar, or in some cases, even cheaper price.
The Master also starts to make sense as a lightweight delivery vehicle; its reasonably narrow wheel track and nimble turning circle do make it an easy little truck to thread through the urban environment.
At least one major supermarket chain has seen the advantages of using a Euro-based delivery truck (not a Renault) and, as the market becomes more competitive, there are no doubt going to be more to follow.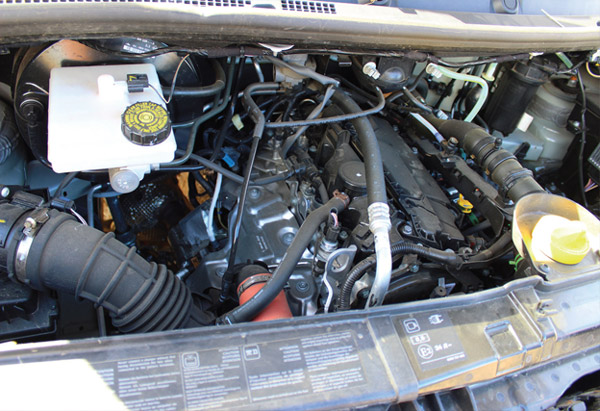 Transmission
Like many of its Euro competitors, the auto option on the Master is automated rather than a traditional hydraulic automatic gear box. As with many truck transmissions these days, the ZF-sourced Quickshift tranny is essentially a manual gearbox that takes care of the clutch engagement and gear changing part of things for you.
The ZF unit on the RWD Renault Master performs much better than the auto on the FWD models. That being said, I'm still no fan. Clutch engagement especially when loaded still remains an issue making low speed manoeuvring a pain. But if you do opt for the self-shifter, it's a $2,000 option.
The manual however, is a cracker. It's a slick shifter with a short throw and is an easy grab from the steering wheel. It's things like this that highlight the Renault's strengths. Even just climbing into the cab is easy with a wide, generous step inside the door making an easy spring into the driver's seat.
The downside of this step, as I've found, is if you drop something while on the move, Murphy's Law dictates it will disappear in to the step cavity and it will end up rolling around in the step, well out of reach until you stop and open the door.
This is also bad news if you drop food while eating on the run, because you then forget it's there and step in the now cold bit of food when hopping out of the vehicle — and that's just a waste of chips. But maybe I'm just being a bit too picky.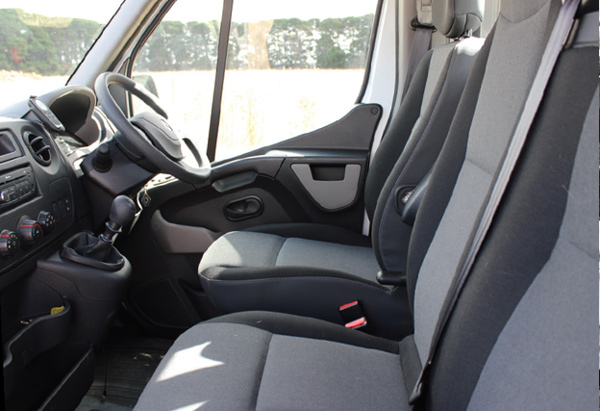 Cab and Controls
The Renault Master interior has storage pockets and compartments everywhere, including a chilled compartment for a bottle of drink, and there's always a spot for a latte while in transit.
The Bluetooth-enabled stereo and optional satnav works well and sound quality was surprisingly good indeed.
However, the eye level mounted screen for the unit that sits centrally in the middle of the cab at the top of the windscreen annoys me no end.
I always find this unit sits in my peripheral vision and drives me nuts; a dash mounted unit would be a much more preferable option.
I also found the cornering lights of the Master annoying. Rather than coming on while the indicators are on, they come on when the steering wheel is moving a full turn in either direction.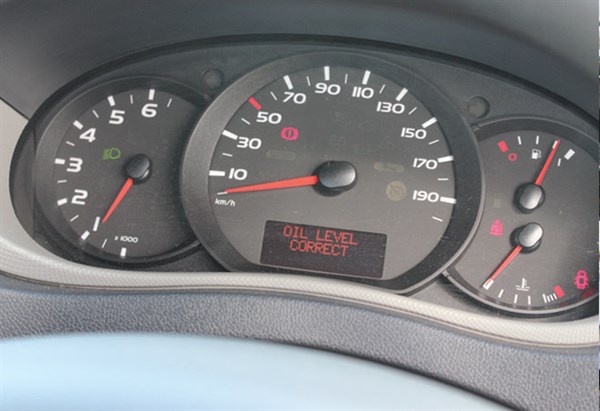 As I headed down to a colleague's farm just north of Warrnambool, I was able to get a feel for the Master on the open highway. As I was empty I expected the Renault to skip and bump about on the Hamilton Highway as I headed west.
To be fair, the little 16-inch (41cm) dual wheels on the back axle did clang and bang a bit. It was a leaf sprung empty truck after all, but there wasn't as much of the skippity-hop factor as I was expecting. In fact, the little Renault was more than happy to sit on a good highway speed comfortably.
An advantage of having the steer wheels out in front of the driver rather than underneath is that the tray back was very easy to keep between the lines, even on some very crappy road surfaces with very little kick through the steering. The overwhelming impression is that of being quite car-like to drive.
If you want that little bit more protection from the pounding pavement you can also opt for an Isri suspension seat which is a very nice touch, though you can't have this option if you go for the dual side airbag option.
As ashamed as I am to admit it, I even found it to be a bit of fun on a winding road and I even got in a bit of heel and toe action in while snicking through the gears.
A little gear shifter icon lights up on the dashboard to indicate you need to change gear to maximise fuel economy.
I took this to mean it was trying to tell me I was driving like a knob. Peak torque runs from 1,500rpm to 2,750rpm, which makes for a nice fat bit of the rev range to draw on in hilly country or when dragging a load.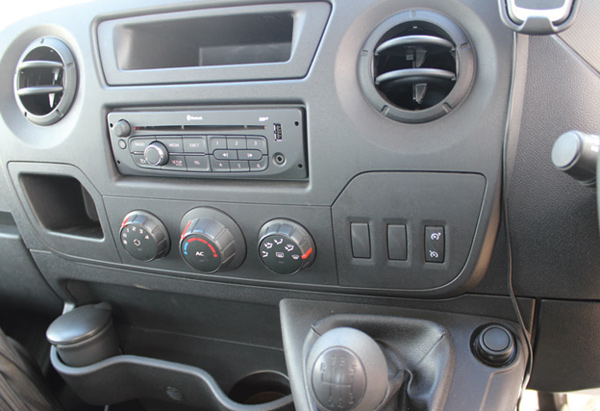 Performance
Okay, I have to admit I had to concentrate really hard during the press briefing at the launch. During the conference however, a stick figure air force on the right of my notebook page mounted an aerial offensive against a stick figure army that had dug in hard on the left-hand side of the page.
Then a stick figure armoured division rolled into battle and things got really ugly … It seems my mind had indeed wandered, while trying to write notes about the more serious business of selling little white trucks.
After the brief I wandered out into the morning sun daydreaming about sandwiches and climbed behind the wheel of one of these little tray back Renaults. It wasn't long before this little truck got my attention.
Far from being a purely utilitarian drive, it had a bit more zip from the driver's seat than I was expecting and ergonomically it would put many of the Japanese equivalents to shame.
When the opportunity arose I grabbed a Renault Master single cab-chassis fitted with an aluminium tray and drove it as my personal transport for a couple of weeks. On top of that, I even went hay carting with it in Victoria's western district just to see how the little French load lugger liked a country highway and a bit of paddock bashing (metaphorically speaking, Renault people).
After picking up the Renault Master I had to head into Melbourne for a couple of errands. Even empty the Renault was pleasant to pilot on an urban freeway and city streets.
The 2.3-litre turbo diesel donk is a reasonably quiet and smooth performer. My little truck was equipped with the 6-speed manual transmission option, while a 6-speed automated version is also available.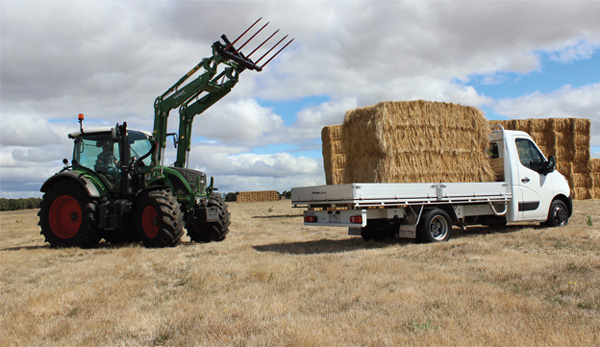 Load
The RWD Renault Master will take a payload of up to 2.5 tonnes and will tow up to 3 tonnes braked. I didn't drag anything behind the Renault on this trip but we did get out into the paddocks and load it up at one stage.
The generous tray, both in size and height, made plonking a decent load of hay on the back quite easy, and the drop-side tray fitted to the test vehicle made loading and unloading an easy undertaking indeed.
Verdict
It's probably not the perfect farm vehicle on some fronts; ground clearance under the cab and drivetrain isn't that great and the small wheel and tyre package make for a choppy ride out in the fields, but then again it wasn't designed as an off-road vehicle.
But if you need a small, comfortable runabout for transporting produce bins or even livestock, the Master would do the job admirably.
As a delivery vehicle or tradie's mate it also makes a lot of sense with a potential load area length of up to 5.5m, when using 4,332mm wheelbase option, making it easy to whack a box on the back. The 3,682mm short wheelbase is also a good start for a service body truck and there's also a power take-off (PTO) option. 
The Renault Master cab-chassis is a tight performing ergonomic broadside in answer to many of the utilitarian and bland machines that have been working in this part of the market for a long time.
It's a nice drive empty and loaded, though there are always going to be others that will win in the grunt department. More importantly however, it managed to hold my attention for more than a couple of minutes.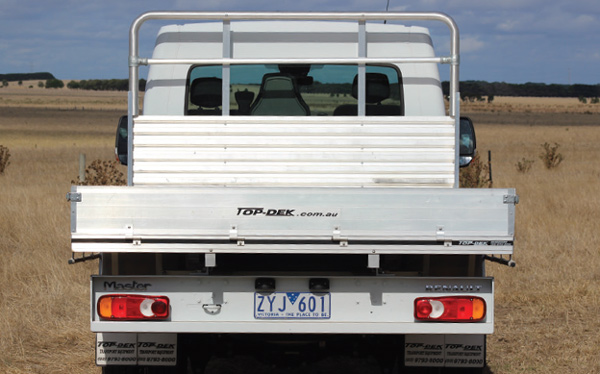 Likes:
Ergonomic, comfortable cab
Great road holding for a little dual wheeled truck
Dislikes:
Stereo display screen in a distracting position
The step wells eat floating objects in the cab
Specifications
Make/model: Renault Master RWD Cab-Chassis
Engine: 2.3-litre direct injected turbo-diesel engine
Power/Torque: 110kW @ 3,500rpm / 350Nm @ 1,500rpm to 2,750rpm
Transmission: 6-speed manual (6-speed Quickshift automated optional)
Payload: up to 2,525kg
GCM: 4,500kg
Subscribe to our newsletter
Sign up to receive the Trade Trucks e-newsletter, digital magazine and other offers we choose to share with you straight to your inbox
You can also follow our updates by liking us on Facebook. 

Trucks For Hire | Forklifts For Hire | Cranes For Hire | Generators For Hire | Transportable Buildings For Hire