Fiat Doblò van review
---
With the addition of the Doblò, a colourful little Italian offering, Fiat has rounded out its van range.
The diminutive Fiat Doblò rounds out the bottom of the Fiat Chrysler van range under the medium Scudo and large Ducato and, colour aside, I reckon it's not a bad looking little vehicle as far as light commercials go. Especially as competitors in the segment range from the bland to the downright ugly.
Engine
The four model range comes in two sizes and is equipped with power trains to suit most tastes.
The short wheelbase Cargo model that sits at the bottom of the front driving Doblò range, is equipped with a 1.4-litre 70kW/127Nm petrol engine backed by a 5-speed manual gearbox.
Stepping up the short wheelbase range gets you a 1.6-litre 70kW/127Nm Multijet turbo diesel backed with a 6-speed manual, or you can go for the quaintly named 'robotised' 5-speed automated tranny.
It should be pointed out the auto is a selfshifting manual not a torque converter auto.
Most European van manufacturers struggle to offer a torque converter auto across their ranges as there's just very little demand for them in their home markets.
I haven't had the chance to try out the Fiat robot 'box but as a general rule I do find them to be a compromise in performance. But for what it's worth the auto option also gets fuel saving start/stop technology.
The flagship of the Doblò range is the long wheelbase Maxi model that gets its motorvation from a 2-litre diesel that ups power output to 99kW and 320Nm.
These are pretty good figures for a little delivery jigger in this market segment.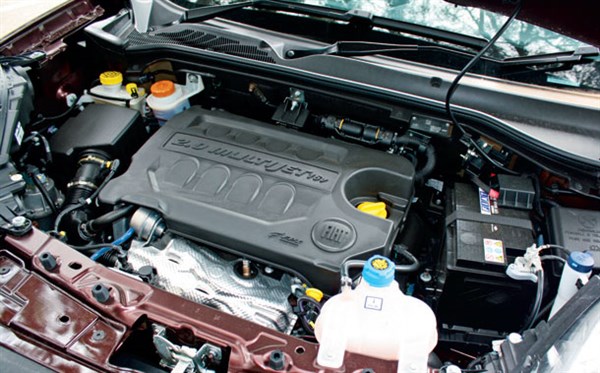 Performance
My top-of-the tree manual Fiat Doblò Maxi purred into life smoothly, a characteristic shared by all Multijet engines in the Fiat Professional family. I slotted it into gear and rolled out of the car park.
Straight up it is clear the Doblò does boogie along quite nicely and the 6-speed 'box is a delight to stir, with a smooth slick shift.
But, while the little panel van has an impressive amount of mumbo for what it is, it struggles to get that power and torque to the pavement in a civilised fashion. Anything above a gentle shove brings out torque steer in abundance.
Sure it's a commercial vehicle not a sports car but the front end doesn't feel sorted at all.
Admittedly some of Australian speed limits are a bit archaic in some areas but rarely did the highlighted speeds on the speedo face correspond with posted speed limits. The 50, 90 and 130km/h marks were highlighted whereas 100km/h was just a little white line on the speedo face.
Not a deal breaker, but it does keep you on your toes in speed camera happy Victoria until you get used to it.
Like any loadlugging vehicle, it certainly rode better with a bit of weight on board but acceleration still had the drive train tugging on the steering wheel.
It really needs some sort of torque vectoring as a part of its electronic stability program (ESP).
Urban streets and arterial highways are this van's natural habitat and the Fiat takes all these in its stride. Once you acclimatise to the skittish power delivery it's actually quite a zippy little vehicle to push through the mechanised rat race of city traffic.
Country roads however, aren't the Fiat Doblò's forte. Again the front end becomes unsettled on patched blacktop and it doesn't like a cambered road surface. Throw in some loose stones on the road and it scrabbles like a kitten on a tiled floor.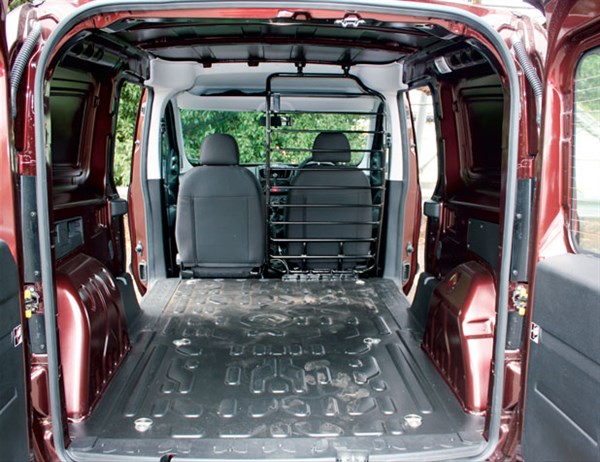 Load
The short wheelbase Fiat Doblò Cargo models have a load area of 3.4 cubic-metres and can tackle a payload of 750kg.
The Maxi model's load volume goes up to 4.2 cubic-metres and it can handle a 1-tonne payload, again very good vital statistics.
The load area of our Maxi is accessed through sliding doors either side and barn doors at the rear which makes filling the 4.2 cubic-metres of space an easy task. Just in case you're wondering, 4.2 cubic-metres is enough room to fit five fully inflated rubber dinghies. Just how I found this piece of vital information out is a long story but suffice to say it involved teenagers, a dare and a fast flowing river on a hot day.
From a practical point of view forklift access is easy and there's room for an Aussie sized pallet between the wheel arches and curb side loading/unloading access won't be an issue either.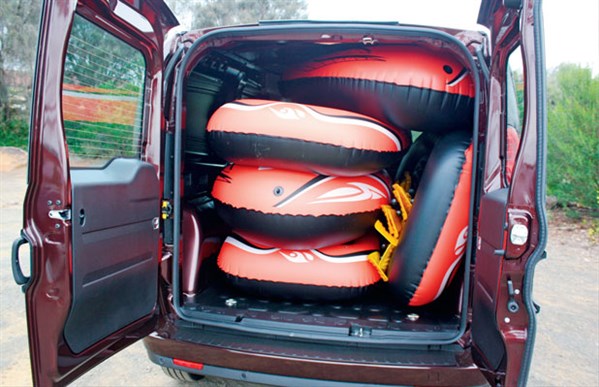 Cab and extras
All diesel models are equipped with parking sensors, cruise control and body coloured mirrors and bumpers.
Sixteen-inch (40.6cm) alloy wheels are an option across the model, which also sets off the spunky look of the Doblò.
The key fob of the Fiat Doblò also deserves an honourable mention.
For a start, its bright yellow so it's hard to lose and it's covered in lots of little black stencilled tool shapes. It doesn't really make any difference to the operation of the Fiat but it is a nice little nod at the Doblò's working aspirations.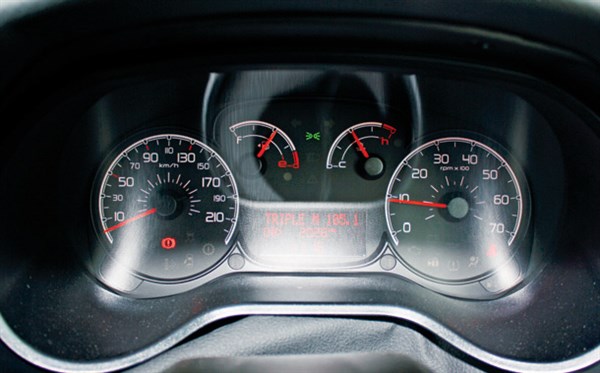 Verdict
Visually the Fiat Doblò is a welcome addition to the Australian market with a bit of cheeky design flair. Having the option of a 1 tonne payload, generous load space and the power to back it up also makes the spunky little van an attractive option.
The lack of driving finesse is a bit of a letdown however; the Doblò dictates the rules of engagement rather than the other way round. An obvious addition to the Doblò range would be a crew or passenger version to capitalise on dual purpose buyers, though Fiat Chrysler Australia reckon this isn't on the cards anytime soon.
Specifications
Make/model: Fiat Doblò Maxi
Engine: 2-litre Multijet turbo diesel
Power: 99kW/320Nm
Drive: Front
Transmission: 6-speed manual
Payload: 1,000kg
GVM: 2,435kg
Load volume: 4.2 cubic-metres
Subscribe to our newsletter
Sign up to receive the Trade Trucks e-newsletter, digital magazine and other offers we choose to share with you straight to your inbox
You can also follow our updates by liking us on Facebook. 

Trucks For Hire | Forklifts For Hire | Cranes For Hire | Generators For Hire | Transportable Buildings For Hire