Renault Trafic van review
---
Renault is maintaining its light commercial vehicle charge with an all-new mid-sized offering. Matt Wood takes the 1.6-litre turbo diesel variant for a spin
I must be getting old.
I'm starting to resent new ways of doing things.
Just when I get the hang of my smartphone it dies or updates and I have to start learning all over again.
I get a new computer and it bears no resemblance to my old one and I'm completely out of my depth.
And there's no point asking Siri because she hates me.
It wasn't that long ago that you could get up in the morning walk down to the shop for a paper, read the obituaries over breakfast and then spend a relaxing couple of hours crossing the names of newly dead people out of the phone book.
And now we don't even have phone books any more … Sigh …
So that brings me to the new Renault Trafic.
It's got a bloody digital speedometer.
Gone are the days when you could keep the anologue speedo needle hovering just above the required number just to make yourself feel like you were making a mile.
Sure speedometers are mandated to read fast but I've always gotten a rather smug feeling while driving with the needle just above where it really should be — as if I was getting away with something that I shouldn't be.
With the Trafic, you are left in no doubt as to what speed you're doing and neither are your passengers because the speedo is a nice big digital display that can be seen from anywhere in the cab.
This can earn you a smarmy self-righteous nudge in the ribs from your passengers while driving, which makes me strangely and unreasonably resentful for some reason.
I shouldn't be resentful really, to be fair the new Renault Trafic is a rather swanky looking new mid-sized van in a sea of light commercial vehicle (LCV) homogeneity.
In this part of the LCV market functionality and value for money take precedence over brand allegiance and styling.
Essentially it just needs to be a safe, reliable, economical box on wheels.
But while it may look a little more chic than the average vending machine on wheels there are quite a few new things to talk about on the new Trafic.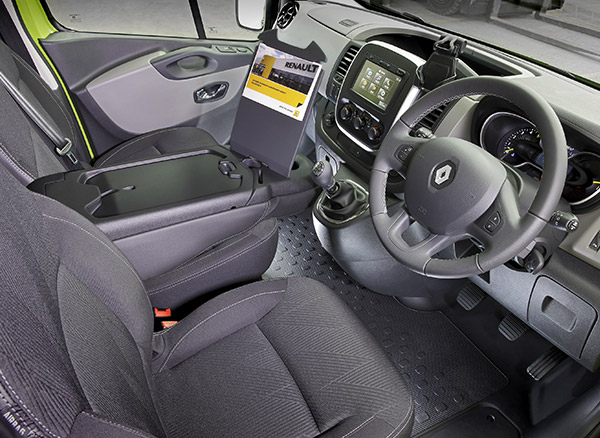 Engine and Transmission
There are two variations of a new engine platform available.
The Trafic's 1.6-litre engine is another example of the global trend towards engine downsizing and increasing power outputs.
The single turbo base dCi 90 version of the R9M diesel engine makes 66kW and 260Nm of torque. While the twin turbo version makes 103kW and 340Nm of torque.
The previous model Trafic relied on a 2-litre power plant.
The higher output donk also gets start/stop technology as standard equipment. Renault is now claiming fuel consumption of 6.2 litres per 100km, a 25 per cent improvement over the previous model.
The high output versions of the engine can also be fitted with an extra pulley to run a refrigeration unit without impacting on the Trafic's air-conditioning unit.
The more powerful twin sequential turbo set-up is said to provide more torque at low rpm and minimise turbo lag.
There is no auto option for the Renault, so transmission duties are handled by a 6-speed manual 'box.
Cab and Controls
As far as safety acronyms go, the Trafic benefits from a new electronic stability control (ESC) unit that features load adaptive control (LAC), extended grip, hill start assist (HSA) and an anti-rollover function.
The dCi140-powered vans get a reverse camera as standard. The camera display is in the centre-mounted rear vision mirror.
As traction can be an issue with front-wheel drive vans, the extended grip feature works with the ESC unit to maintain grip on slippery surfaces.
Two airbags are standard with the option of lateral airbags and a thorax airbag for non-bench seat models.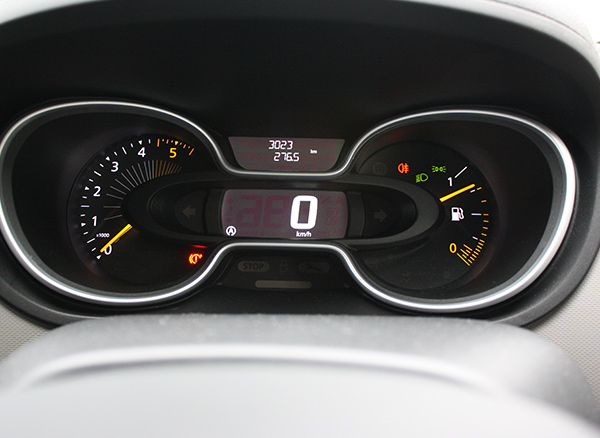 The Trafic's seats are also mounted on anti-submarining humps. And the extra length of the new Trafic's nose is said to provide extra real estate to absorb impacts.
Plus that slippery shaped snout has been designed to be kinder to pedestrians should the need arise.
One neat little low-tech feature is the optional wide spot mirror that is mounted on the passenger side sun visor.
This gives the driver a wider view down the left-hand side of the van, an obvious blind spot. 
The downside to this is when your passenger flips down the sun-visor to use the expected vanity mirror and gets a nasty shock at their distorted visage staring back at them.
Auto headlights and auto wipers are also standard fare on twin turbo Trafic models.
Renault seems to excel at providing so many storage areas in their van interiors that it makes it too bloody easy to lose stuff.
I constantly find myself rummaging around in the nooks and crannies trying to find my house keys … or a stray French fry … or a muffin.
There are little pockets and hidey holes all over the place.
The higher spec models have a little flip-down office area mounted to the back of the middle seat which also feature a clipboard and tablet holder.
There's also an optional smartphone cradle to keep your phone from sliding away while on the move.
An optional 7-inch (18cm) touchscreen multimedia unit also provides navigation as well as Bluetooth connectivity.
Of course, this unit also includes USB and auxiliary input jacks.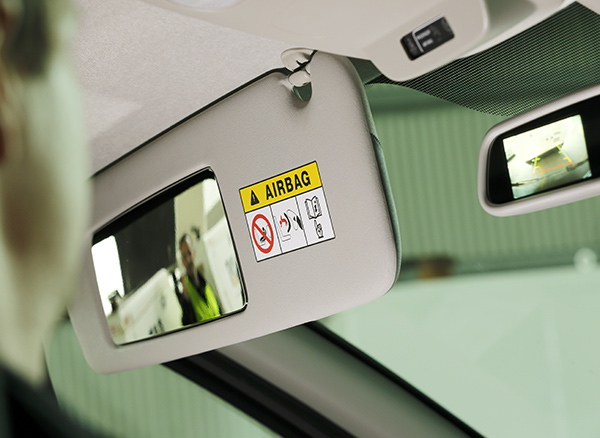 Load
Payloads range from 1,235kg on the short base model, 1,237kg for the mid-range short wheelbase and 1,275kg for the long wheelbase Trafic.
Short wheelbase models offer 5.2 cubic-metres of load volume while the long wheelbase model offers 6 cubic-metres of space inside.
The short models offer 16 cargo tie-down points while the biggie offers 18.
A 12-volt power outlet mounted in the cargo area is standard fare and there's an overhead rack option to enable a 13kg load to be carried above the load area.
There are also a whole bunch of factory options for tailoring the load area to suit specific applications.
A big plus in this part of the van market are the barn door which enable forklift access and two Aussie pallets will slide into the Trafic without any drama.
As with most others on the market, an Aussie pallet won't fit through the side doors.
For a start the Trafic has grown, it's now 210mm longer.
Load length has also increased to 3.75m and 4.15m on the L1 and L2 variants respectively by using the under seat bulkhead flap to provide extra room.
The redesigned cabin has gotten a little bigger and the Trafic is offered in a base model short wheelbase model, an up-spec short wheelbase twin turbo model and a twin turbo long wheelbase variant.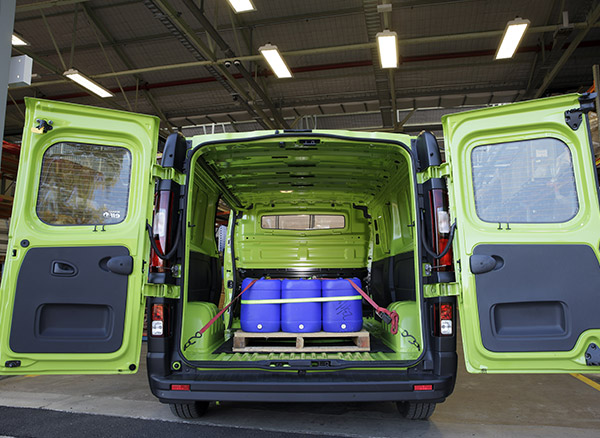 Performance
The Trafic hero colour is Bamboo green.
While some may baulk at the Renault palette, I personally love it.
After a procession of anonymous white vans in my driveway the Renault stood out as an individual.
It's also a rather nice looking little jigger.
Climbing aboard is easy and the driver's seat is now lower to the ground than previous models.
The Trafic cockpit is a rather comfy place to be.
The interior of the van manages to still look both funky and functional, which is no mean feat really.
I rotated through both twin turbo models over a period of a couple of weeks but really aside from wheelbase there was little to distinguish them from each other.
They were even the same garish green.
The dCi engine and its sequential turbo chargers provide performance levels that belie its relatively small capacity and it's a reasonably quiet little piece of machinery.
The combination of the engine and the slick-shifting 6-speed manual tranny make for a very pleasant drive indeed. In fact the Trafic scoots along very nicely.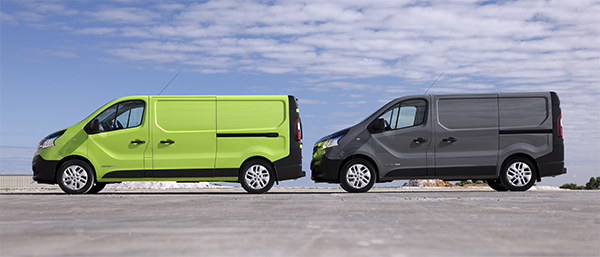 Road holding is also quite surprising. I'm generally not a huge fan of front-wheel drive vans out on the open road but the Trafic accounted for itself very well out of the city and on broken rural blacktop.
I also took the opportunity to load the rear of the long wheelbase model up with some timber and go for a drive in the hills.
Again the Trafic surprised me with its handling, even under load. With that digital speedo constantly tut tutting me while I was driving, I found the Renault was actually quite an enjoyable vehicle to punt around in.
The glazed steel bulkhead that separates the load area from the cockpit keeps road and driveline noise to a minimum.
There was very little rumble through the body, even on coarse blacktop surfaces. I did find myself determined to upset the Renault at some stage so I thought I'd see how it handled a load on loose gravel.
The ESC program and traction control did a sterling job of keeping the drive wheels turning with only a little kick back through the steering wheel as the system decided how it was going to keep drive momentum and minimize wheel spin.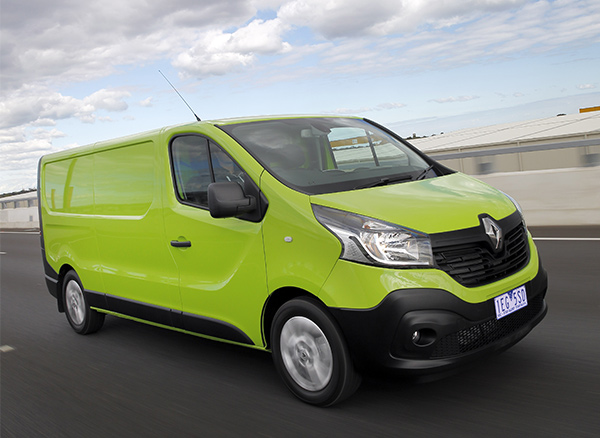 Verdict
I tried very hard to find fault with the little Trafic, yet it seemed to come up trumps regardless of what I did with it.
I even commuted comfortably through peak hour traffic without finding any real niggles.
Not having an automatic option though is an issue in a part of the market where fleet sales are important.
So I come back to the politically correct, smarmy, self-righteous digital speedometer.
It's the fly in the ointment in a very competitive LCV package.
It just sits there glaring at me, judging me as I drive and I just can't work under that sort of pressure.
Specifications
Make/model: Renault Trafic
Engine: 1.6-litre turbo diesel (optional twin turbo)
Power: 66kW/260Nm (single turbo) 103kW/340Nm (twin turbo)
Transmission: 6-speed manual
Drive: Front
Payload: 1,235kg to 1,274kg
Load area: 5.2 cubic-metres (short wheelbase) 6 cubic-metres (long wheelbase)
Warranty: Three-year 200,000 kilometres
Price: $33,490 (L1H1 dCi 90) to $38,490 (L1H2 dCi 140) RRP not including on roads
Click here to subscribe to TradeTruck's weekly newsletter and receive all the news directly in your inbox.
Subscribe to our newsletter
Sign up to receive the Trade Trucks e-newsletter, digital magazine and other offers we choose to share with you straight to your inbox
You can also follow our updates by liking us on Facebook. 

Trucks For Hire | Forklifts For Hire | Cranes For Hire | Generators For Hire | Transportable Buildings For Hire