Toyota HiAce LWB van review
---
Matt Wood takes the Toyota HiAce for a test up and down the Australian east coast. Where does he think the Japanese offering fits in the growing LDV market? Find out.
It may be as common as bike shorts on a sunny Sunday arvo, but the best-selling Toyota HiAce has made a name for itself as the go-to urban delivery vehicle in the Australian mid-sized van market.  
The Toyota hallmarks of reliability and durability has served the bread tin-shaped workhorse well for businesses - big and small - that need a fitting mobile receptacle for their consumer goods.
But, like the aforementioned bike shorts, the HiAce doesn't really leave much to the imagination.
Even with updates over the years it remains a simple box on wheels with a steering wheel and engine.
Over a period of weeks we took the current incarnation of the HiAce for long highway runs as well as short urban hops - loaded and unloaded  - in a bid to see just how the Toyota handles itself in today's booming LDV market.
A little background
Our long wheelbase diesel-auto HiAce was, of course, white.
Hiding under the front seats is a 4-cylinder 3-litre turbo diesel from the same engine family as the recently superseded Hilux. There's 100kW of power and 300Nm of torque on tap and this is fed to the back wheels via a 4-speed torque converter auto.
Standard equipment includes a rear-view mirror mounted rear-view camera; parking sensors; an MP3/Bluetooth enabled CD/AM/FM radio; cruise control; air-conditioning; doors; a windscreen; four wheels; an engine; transmission; and, of course, brakes.
Rear access to the 6 cubic-metre capacity LWB van is via a lift up tailgate and there's a kerb side sliding door complete with window.
What more could you want?
Well, if the market's anything to judge by, not much more.
Safety equipment includes an airbag each for the driver and passenger, and ABS brakes.
The front wheels are home to brakes of the disc variety, while rear brakes are drum flavoured; all wheels are fitted with hub caps.
It should be noted that the HiAce doesn't yet have any electronic stability control.
All doors are also fitted with handles.
The HiAce will take a payload of 965kg and if you must you can tow a braked load of 1400kg.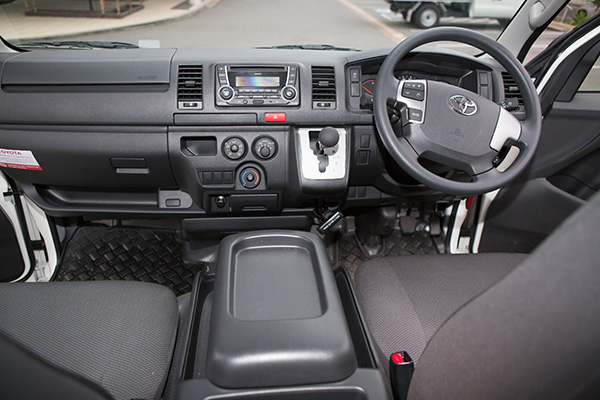 Performance
Swinging into the stubby little Toyota is quite easy due to the set-back front axle.
Amongst the acres of workplace-friendly grey plastic is a dash mounted tranny shifter, a stereo unit with some refreshingly old-school analogue gauges, and a steering wheel.  
Not much is left to the imagination.
The common rail 1KD-FTV engine features four pistons and an intercooler.
Peak torque is on tap from 1200rpm and with the auto option it is keen to haul from a standstill.
It is however, by today's standards, quite loud.
And with the arrival of some Euro sourced competitors in the same price bracket, the Toyota donk does sound rather coarse in comparison.
A mesh cargo barrier is an option which helps keep cargo in the cargo area but driveline rumble from the rear does add to the rather noisy HiAce workplace.
Bluetooth phone conversations are a low speed option only, but are really best undertaken with a full load of mattresses on board.
The auto works well once the van is rolling but it bogs down a little when empty as if it's looking for a load.
A little weight in the back does make a difference to the self-shifter's shifting.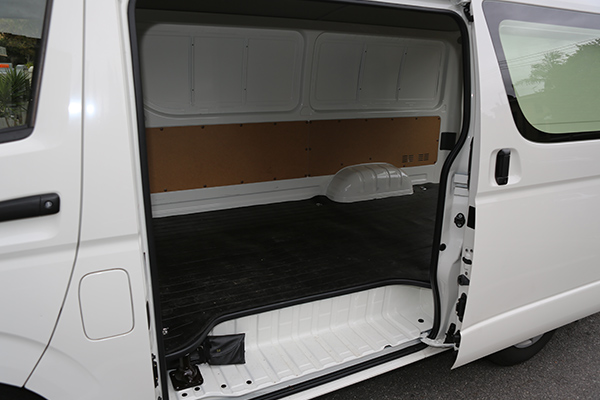 The steer axle location of the HiAce is a double-edged sword.
On one hand, in conjunction with its rear wheel drive configuration, the Toyota has an excellent turning circle.
One the other, it makes the ride quite bouncy as the front axle is directly under your bum.
This is one very good way to ensure that speed humps and rail crossings are treated with the utmost respect.
On the open road, the HiAce hates a cross wind more than some of its slab-sided contemporaries.
Passing trucks will have you twitching the wheel to compensate.
Around town however, the HiAce is a lively little van to thread through traffic.
The HiAce is available with only a lift up rear tailgate.
With no barn door option which makes forklift and pallet access a bit of an issue.
It does have an interior that will deal with work boots, fast food wrappers, and spilled coffee on a daily basis.
The latter is the most likely with the two cup holders placed way back on the console.
Verdict
The Toyota HiAce makes no apologies for its simplicity and no doubt the brand's reputation for durability will continue to see it sell well.
The LDV market has grown 20.5 per cent since 2014 and, according to the latest Truck Industry Council figures, final mile delivery vans now make up 18 per cent of the Australian commercial vehicle market.
So the market is getting more competitive by the minute. The HiAce now has plenty of challengers.
The HiAce LWB TD auto will set you back $38,490 mrp and you'll also get a three year 100,000km warranty.
As well as windows that go up and down… and seats…    
Subscribe to our newsletter
Sign up to receive the Trade Trucks e-newsletter, digital magazine and other offers we choose to share with you straight to your inbox
You can also follow our updates by liking us on Facebook. 

Trucks For Hire | Forklifts For Hire | Cranes For Hire | Generators For Hire | Transportable Buildings For Hire